---
"I felt both supported and valued as an artist, that I could present my work exactly as I wanted within the frame of this event. It was a strong, dynamic and well curated line up. The team were consistently supportive, professional and lovely." – Rob Hesp (Artist)
"I felt both supported and valued as an artist, that I could present my work exactly as I wanted within the frame of this event. It was a strong, dynamic and well curated line up. The team were consistently supportive, professional and lovely." – Rob Hesp (Artist)
---
SPILL YER TEA #5 PARTICIPATING ARTISTS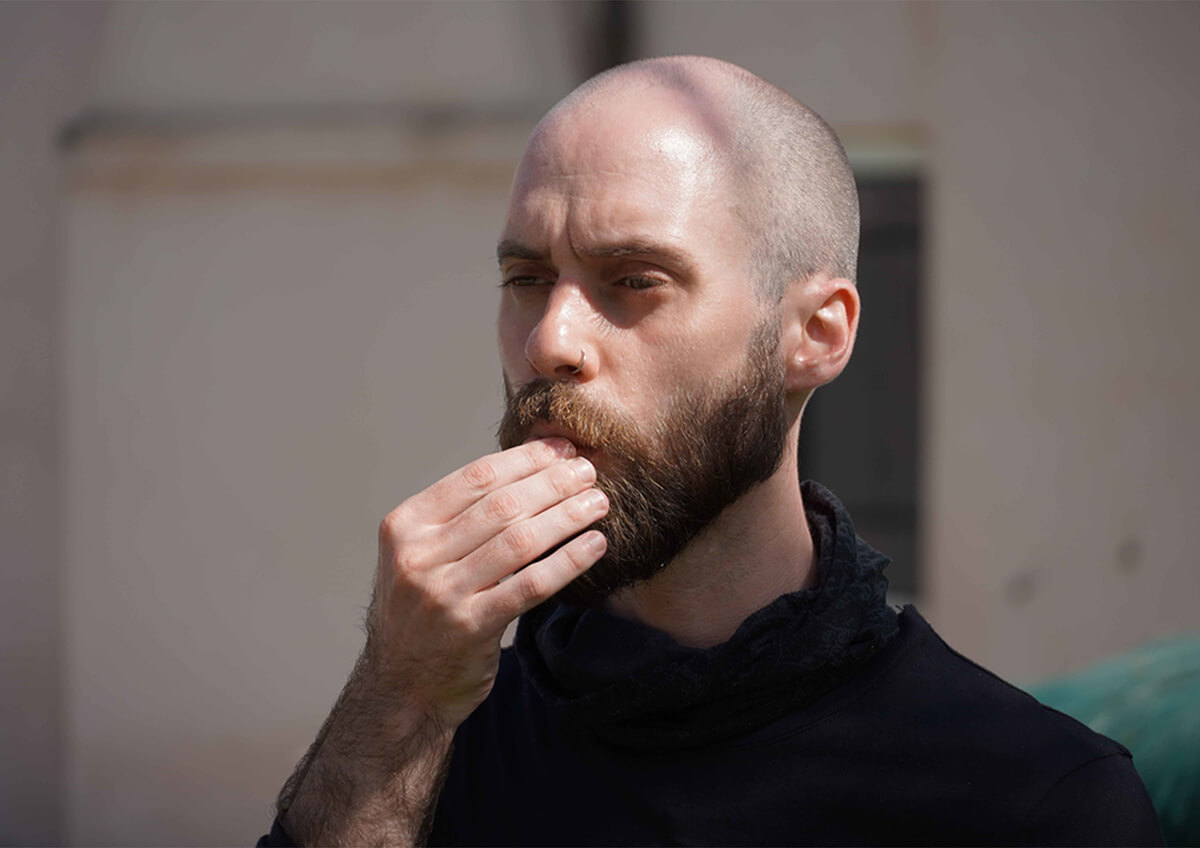 'Dressing' considers the site of the body, specifically the back, as a location for discovering vocal sound. Nathan's work explores the voice as a physical and embodied task. In recent years Nathan has been developing performances for camera, both still and moving image, that focus the site of performance within the frame of the camera and facilitate a more detailed enquiry into the role of their vocal-body in performance.
Nathan works across and between performance art and poetry, exploring both the body and the page as sites for vocal exploration and the manipulation of sound and speech. Their performances often take place over extended durations, sometimes several hours, during which time Nathan constructs spaces of intense listening and attention. They have performed internationally at festivals and galleries including Finland, USA, Germany, France and the UK.
Image: Nathan Walker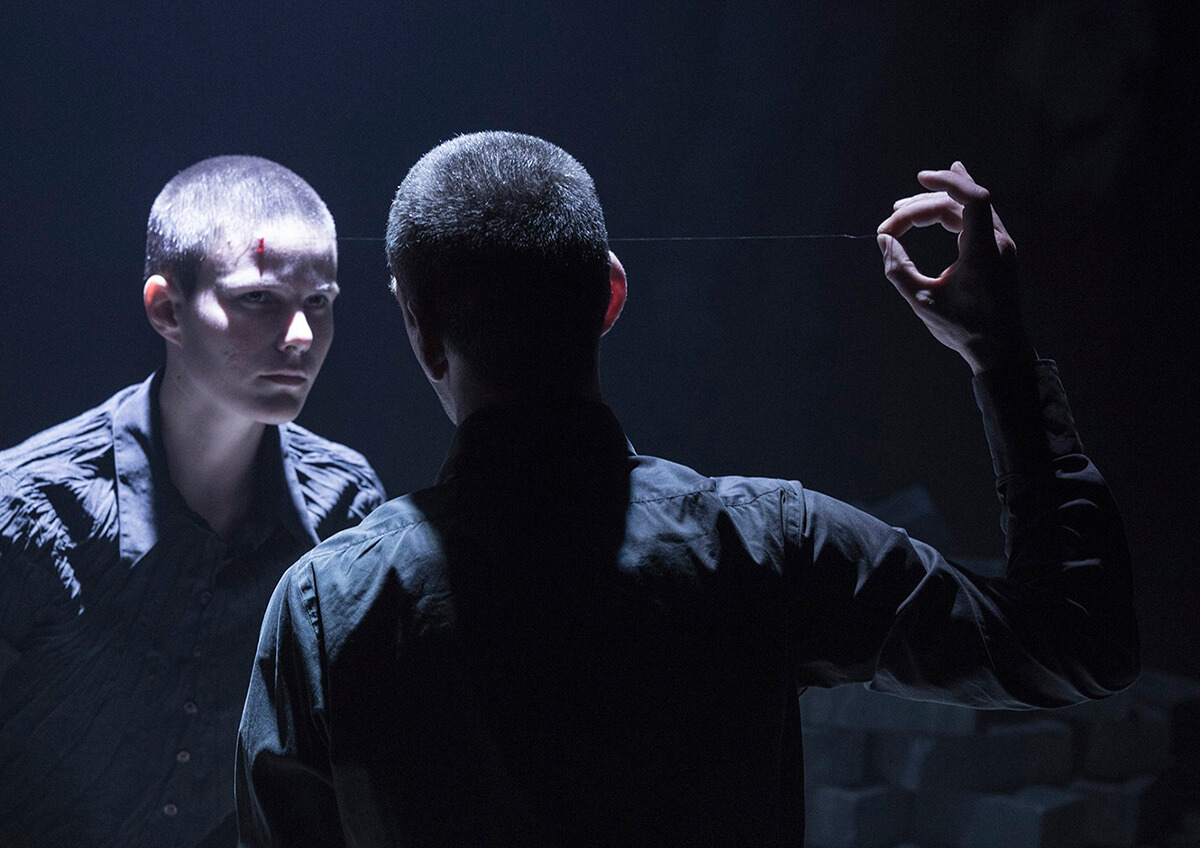 Marina Barsy Janer x Isil Sol Vil (Puerto Rico x Catalunya) take corporeal mimesis to the eXtreme, in a specific space and in a given environment. They explore alternative sensitivities that challenge the imposed historical chronologies while suppressing the male/ female dichotomy. Their pieces are framed by the need to establish a single connection and body rhythm of pure listening. They are not two bodies, they are not two artists; they are the body in a space, in a time and in a presence. Their point of union, as vanishing point, is a constant pulsation where the plural presence of the body, the border destruction and the decolonisation of the mind-body is an act of rebellion and subversion.
Marina Barsy Janer x Isil Sol Vil (Puerto Rico x Catalunya) are visual and performance artists, curators, researchers and pedagogues. They began their joint work in 2015 following a philosophy of Subversive Love and eXtreme Care. They have presented work in Europe, Asia and the Americas in festivals, museums and galleries such as: Viva! ArtAction (Canada), Tempting Failure (UK), Centre de Cultura Contemporànea de Barcelona (Spain) and Casa Viva (Mexico), Their work is held in collections including the Live Art Development Agency (UK), the Museu de l'Empordà (Spain) and the Netherlands Institute for Sound and Vision (Netherlands). They are directors of MATERIC.ORG cultural centre and curators of MAR DE ISLAS performance encounter of the Caribbean and EMPREMTA international performance festival.
Image: Marina Barsy Janer x Isil Sol Vil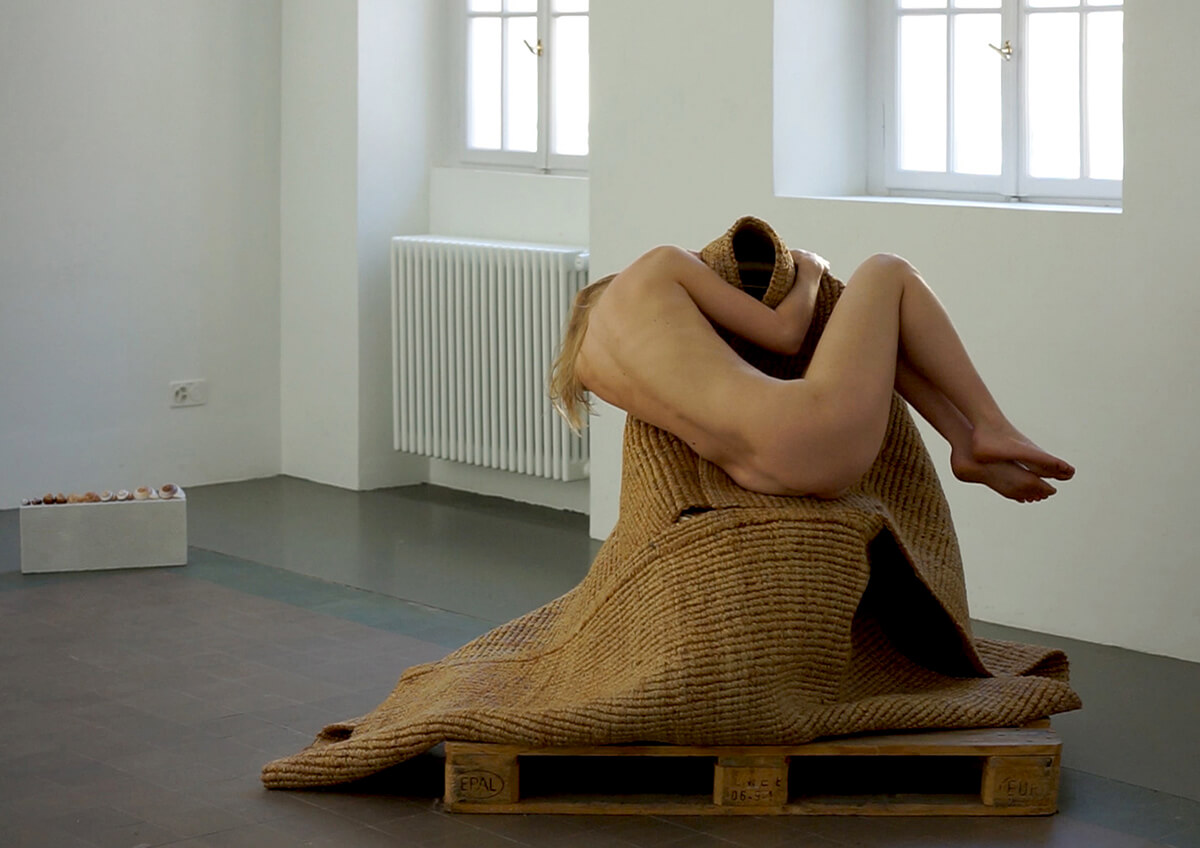 Hollie uses her body as an activated and politicised site, bringing charged materials to it to envisage 'insideness' and externalise the unconscious. She makes site-responsive and intimate time-based work both live with the audience as witness and in isolation in derelict buildings and remote landscapes with her camera as witness. Since 2019 she has been collaborating with musician Craig Scott, to develop a hyperreal sound world that heightens the intensity of her imagery across performance and film.     Through somatic enquiry as quiet activism she uses her body as a visceral material to turn feelings of vulnerability into empowering actions that reclaim the sensual as a political tactic to expose and overcome invisible codes of violence on women's bodies. Using performance as a tool for transformation and female ascension she explores recurring themes of therianthropy, metamorphosis and rebirth.
Hollie Miller is a performance artist with an interdisciplinary practice and background in contemporary dance. She has performed internationally in the UK, Europe, Finland, Switzerland, Argentina and Japan in contemporary art galleries, museums, land art and performance art festivals. She holds an MA from Royal College of Art (2016) and a BPA from Northern School of Contemporary Dance (2010).
Image: Hollie Miller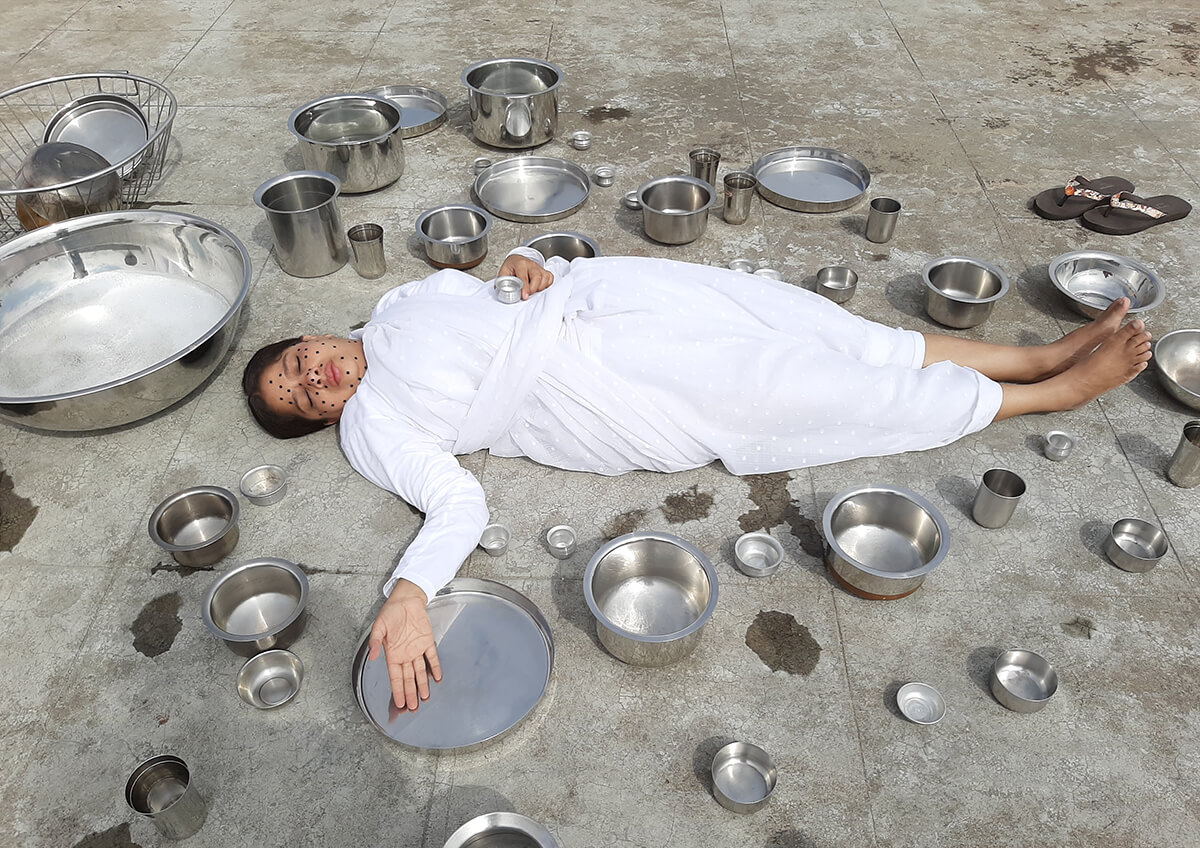 Decolonising Ritual –The Scent of Earth is a ritual which attempts to establish a deeper bond with nature. The complex histories of colonialism, where humans have sailed seas, extracted wealth and ruled countries such as India for money, power and greed has left the ecosystem of the planet in a significant crisis. To the audio backdrop of the Last Batch Of British Troops Leave India (1948) | British Pathé, Dimple will transit through thoughts and actions, reflecting upon colonisation while attempting to reacquaint with what it means to be part of the Earth's ecosystem.
Dimple B Shah is a multidisciplinary artist from Bangalore, she studied in MS University, Baroda and her art practice has developed in Painting, Printmaking, Installation and Performance Art. Dimple Shah's practice is grounded in concepts of humanism, social philosophy, and anthroposophy. She has presented work at Manchester Contemporary, DADAFest, Live Action in Sweden, Dhaka Live Art Biennale in Bangladesh and  Nigeria's Afriperforma.
Image: Dimple B Shah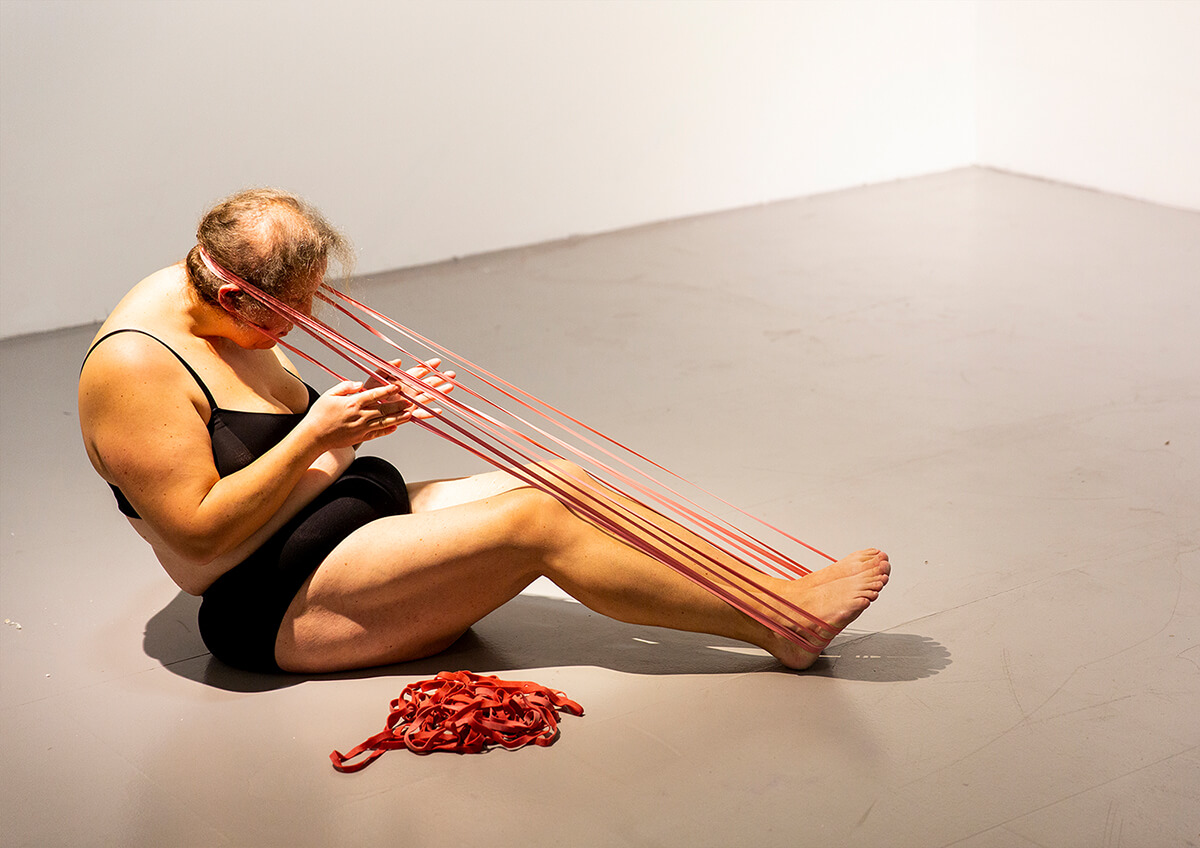 PORRIDGE is an interaction with food that's existed in many forms over thousands of years in many cultures. In modern times, porridge has become a conflicted symbol of "food for the poor", food for the obese and food for the wealthy who wish to stay healthy. PORRIDGE is an intimate exploration of the artist's own complicated relationship with this substance of nourishment, as a person with obesity and low income.
Nina Claire is a self-taught artist based in Tynset, Norway. Their work is focused on the body in relation to society, different forms of trauma and the process of looking into questions one might never find answers to. Through performance art, video and photography, these themes are explored both viscerally and abstractly. Nina Claire has performed live at Chale Wote Street Art Festival (Ghana, 2019) and Venice International Performance Art Week (Italy, 2020). They have also participated in PerformIstanbul's Stay LIVE at Home (2020), Spill Yer Tea #4 (2020) and Primera Trienal International de Performance Deformes Chile 2020-2021.
Image: Nina Claire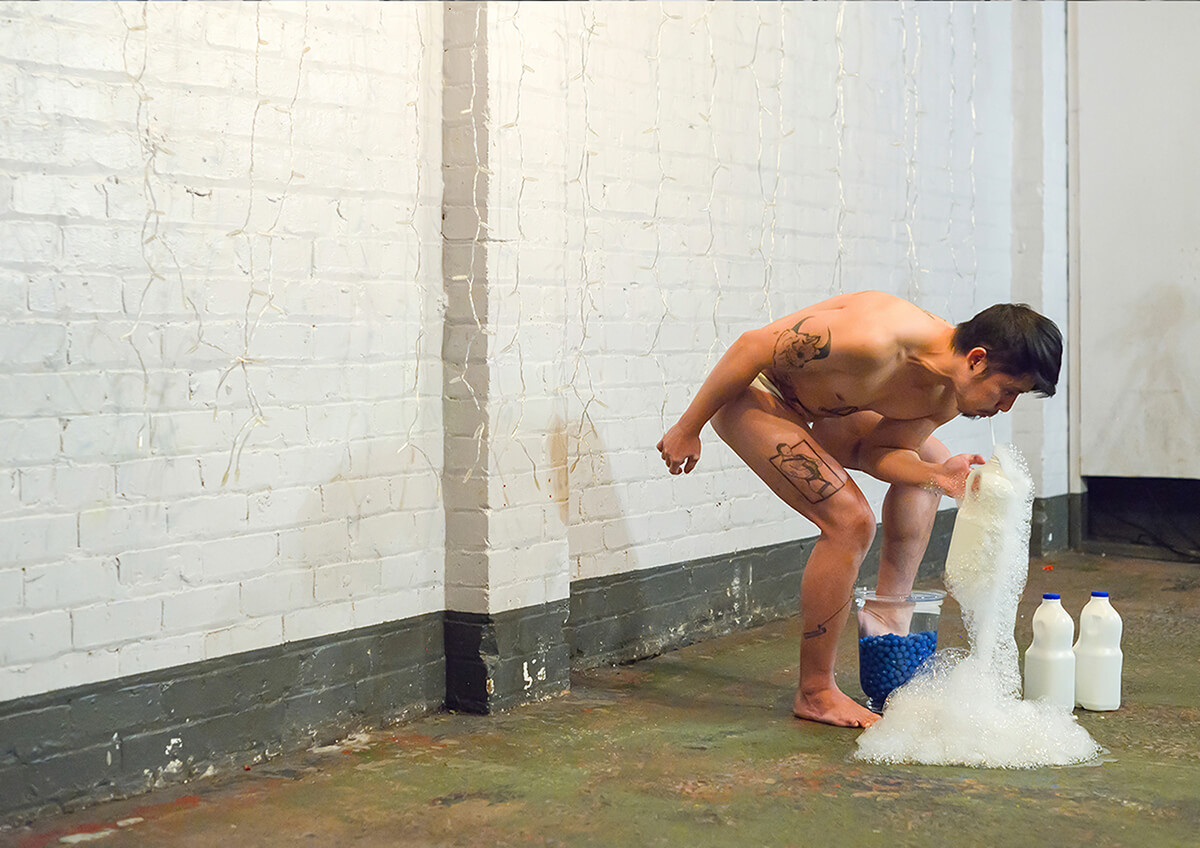 I'll be a Good Boy is a prayer calling for submission and to be dominated.  A pair of hands clasped tightly, but their thumbs protruding out, hinting towards the thumbs-up gesture. Dangling beneath is a pair of clinking army dog tags attached to a string of common beaded necklace, almost as if they were a religious relic, a rosary perhaps.   The performer is then accompanied by a synthesized voice uttering words of invocations filled with worship- but to whom this piety is petitioned for remains cryptic. The words are uttered in two languages- Indonesian and English; slightly rearranged from its source: a series of lewd messages the artist received from an unknown man.
Kelvin works primarily with performances, often accompanied by and translated into drawings, mixed media collages and objects compiled as installations. Approached as bricolages, Kelvin translates narratives and recreates personifications based on RPGs (Role-playing video games) theories and pop mythologies. As an expansion of his post graduate study, he is developing the language of queer abstraction and minimalist erotica in his illustration of the mecha and transhumanist fantasy. He has presented work a ]Performance Space[, FUTURE RITUAL, Performance Art Bergen and Word of Warning's Emergency. 
Image: Marcin Sz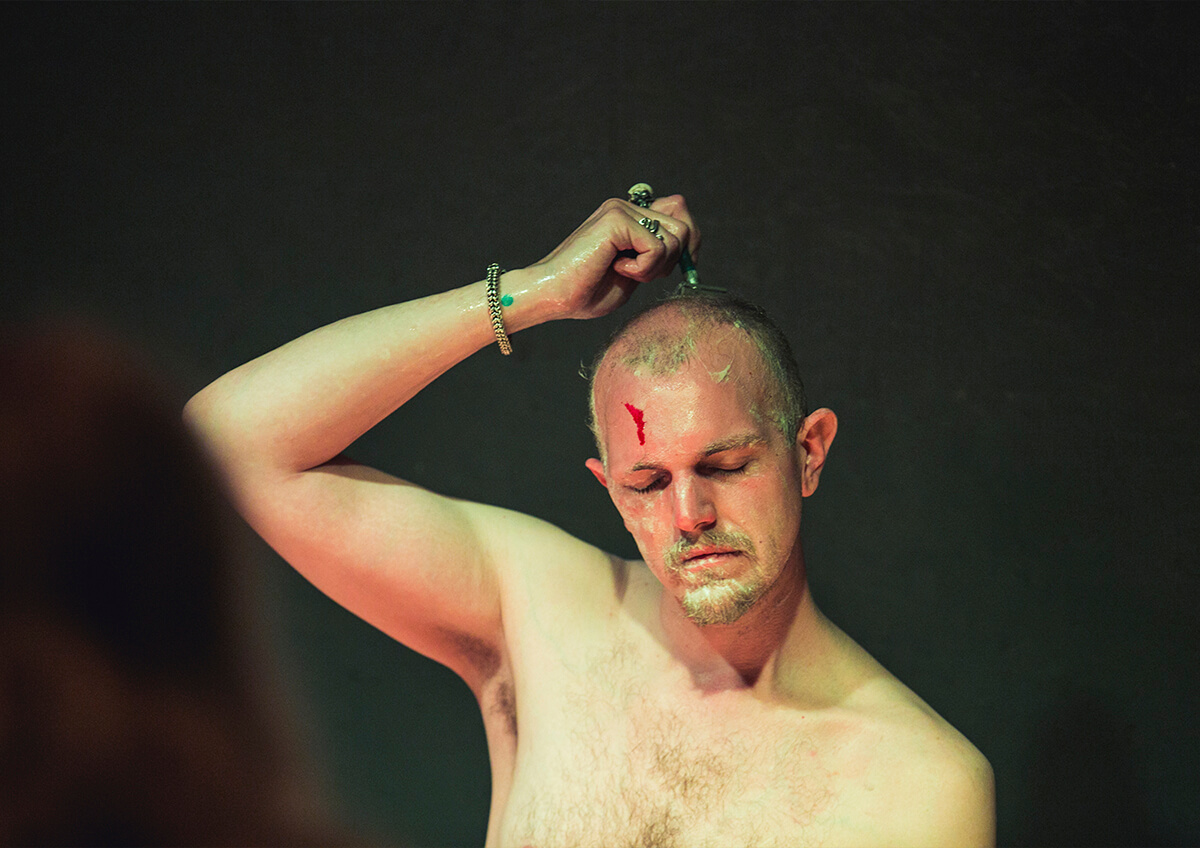 Effacement: 19082021  Effacement: to rub out, erase, or obliterate (outlines, traces, inscriptions, etc.). to make (oneself) inconspicuous; withdraw (oneself) modestly or shyly.   Effacements are a new series of works which utilises photographs as a base of performative gesture of manually erasing the human characteristics of the image. Leaving hollow and haunting documents of the past. Subtly exploring transgressive ideology via an act of defacing the person/s in the photograph; potentially erasing the last known document of their existence.   
Alasdair's works as a multi-disciplined artist looking into ideas of social decay, transgressive ideologies and hopelessness. Delivered through the perspective of a self-construction, and the manifestation of (I) + )I(, he constructs performative gestures called Altercations. Altercations, becomes a visual cataclysm to alter/protest a pre manifestation of reality, attempting to display an existential confusion of being and a resilience to accept the parameters of lived reality. Alasdair Graduated with an MFA in Fine art from Nottingham Trent University in 2018 and has been a Backlit Studio Artist since. He has been supported by performance platforms Performance N' Tha, Little Wolf Parade and UKYA
Image: Andrew Ab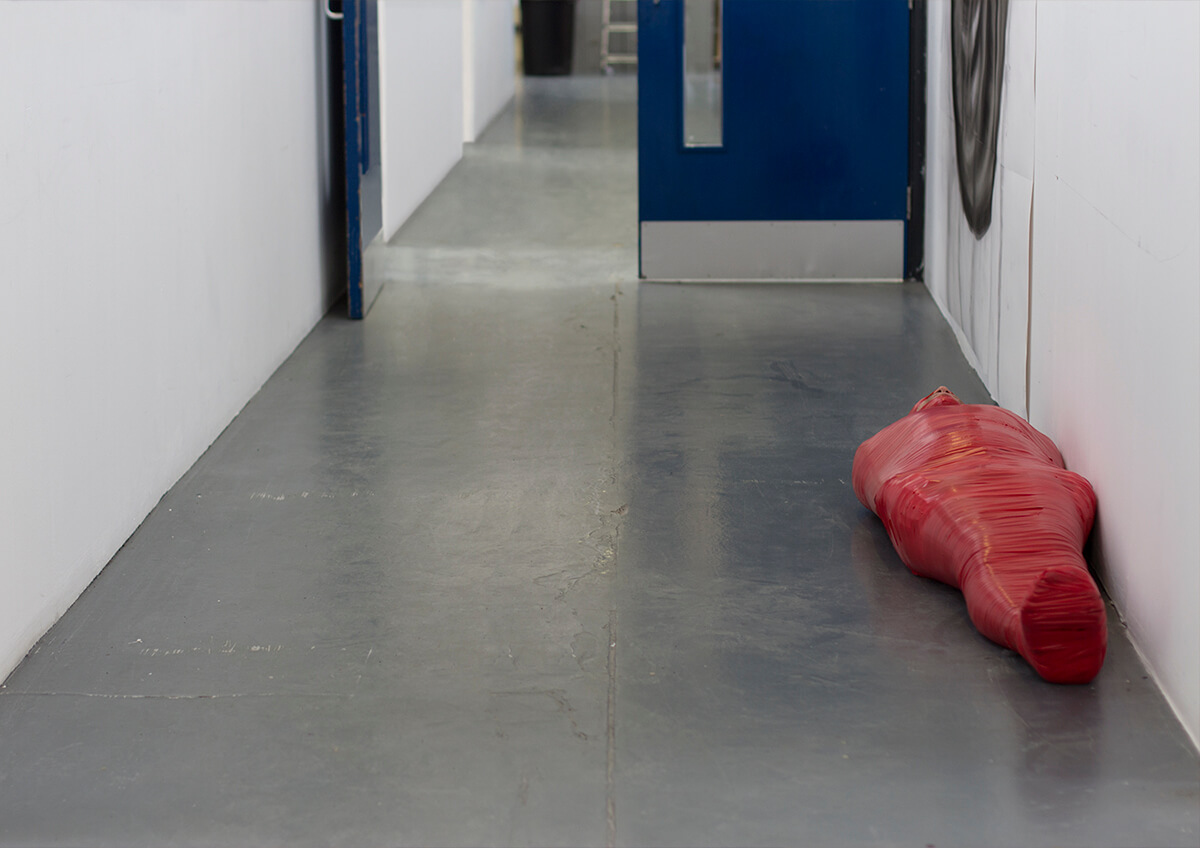 Scrutiny explores personal experiences of deprivation, oppression and survival, from the perspective of a queer Child of Deaf Adults, growing up in Thatcher Britain in the 80's and 90's. The work provides a glimpse into the world of an oppressed and marginalised family, who as a result of the barriers faced and a lack of employment opportunities, found themselves consumed by poverty and struggling to survive. Scrutiny combines symbolism of regality and abundance with the reality of domestic life and poverty.
Pierce Starre is a live performance artist based in Liverpool. Their work predominantly explores their cultural experiences as a queer, working class, neurodivergent, Child of Deaf Adults (CODA), within a broader social and political context. Pierce has received commissions from METAL Culture, Heart of Glass, DADAFest, Unshut Festival, Vivid Projects, Liverpool Independents Biennial, Word of Warning and Disability Arts Online and has presented work at ]Performance Space[ , Venice International Performance Art Week and PerformIstanbul.
Image: Ruxandra Radulescu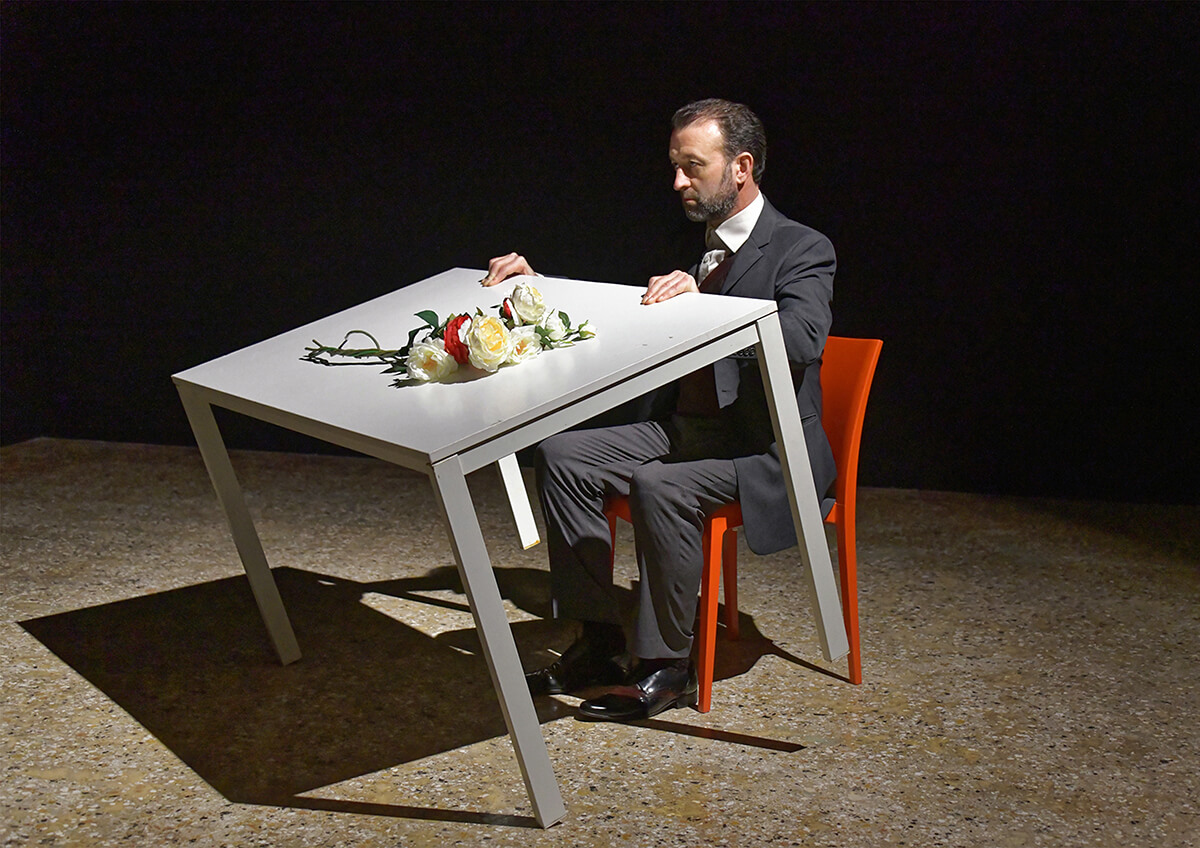 Visual artist Paul Regan works with the subjects of ritual, faith, religion. Coming from a background in painting, his recent ongoing projects utilise live performance to explore actions in compulsion and restraint, cultural misappropriations, invocations and profane devotions.
The visual imagery and symbolism associated with notions of "the sacred" within religious ideologies is a major area of consideration in much of the work.Through media of print, installation and live performance Paul experiments with interventions of representation of the divine, invented visual psychology of personal faiths and the visual form in ritual. Working with religious elements raises complex issues; one of the most significant is faith. There are questions raised pertaining to the crossovers between expression and belief; non-belief and sacrilege, gender equality, authority and autonomy.
The artist, based in Dublin, has presented on various international platforms including: Manifesta, Venice Biennale, Documenta, Art Basel Miami and Venice International Performance Art Week.
Image: Paul Regan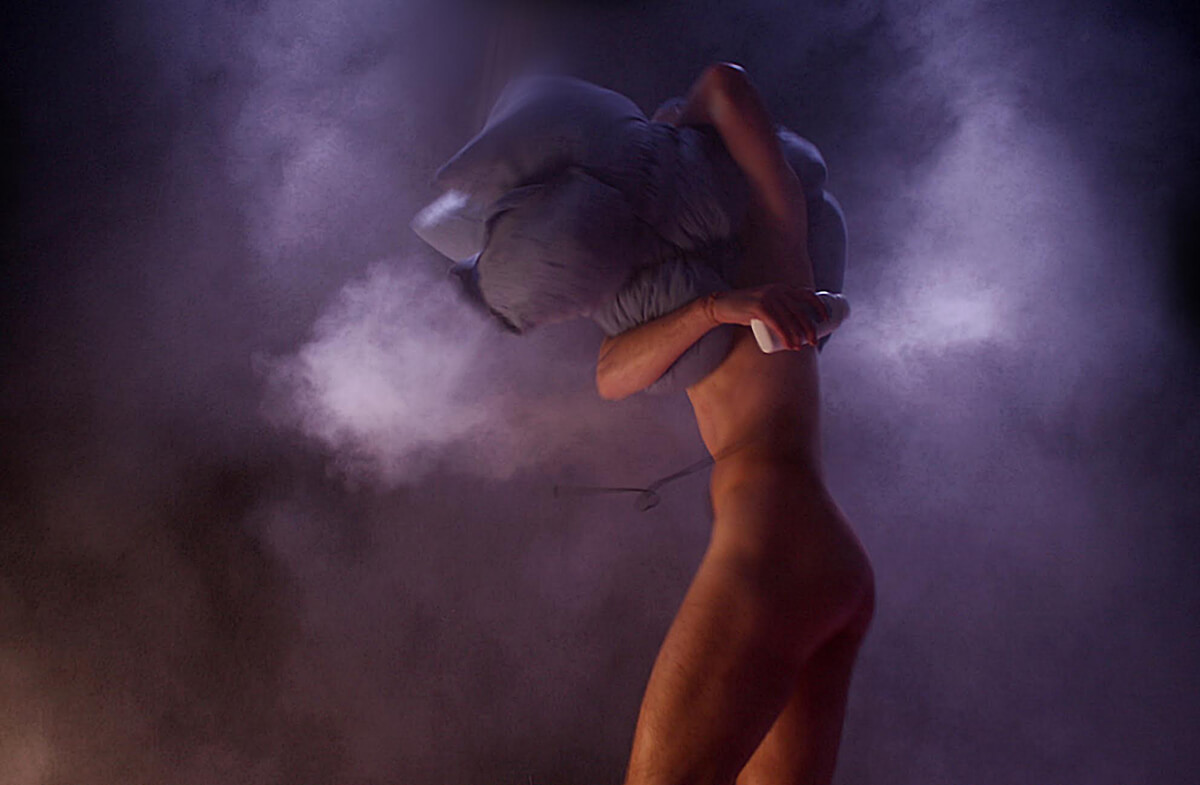 I only exist between your teeth, milk flowing   A queer performance action, rooted in images of wilderness, rage and need for community healing.   An intimate performance, blending embodied choreography, tonal vibration and politically charged material actions. A hybrid affectation, a sort of prayer, rite and burial dance, centred around the soft, gentle and sensuous body, milk and blood red wine.  Inhabiting this space of trance, bouncing between our rage and your violence – gripping the spinning surface of the earth with our toes.   
Robert Hesp is a performance artist, choreographer and dancer from Leeds, England currently based in Copenhagen. They are interested in the ways people come together, using their work to suggest alternate modes of being and feeling. Their performance work is constructed from a fluid and evolving queer perspective, often using viscous mess, material textures and sculptural object forms alongside the moving body. Robert has created and toured multiple live works, both in the UK and in venues across Europe.  Their work has been presented at  Spill Festival, Latitude and Dublin Live Art festival. 
Image: Rob Hesp
---
ACCESSIBILITY
SPILL YER TEA #5 was translated into British Sign Language (BSL) by Deaf BSL translator Daryl Jackson contained Live Captions by Rachel Gomme.
---
SPILL YER TEA #5 TICKET SALES
All proceeds from SPILL YER TEA #5 ticket sales were used to support to the Radical Therapist Network QTIBIPOC Therapy Fund. Performance N Tha donated £230.00 to support towards providing one year's worth of weekly therapy for adults in the UK who identify Queer, Trans, Intersex, Black, Indigenous, People of Colour (QTIBIPOC). To find out more about the fund or to make a donation visit The Radical Therapist Network Go Fund Me Page
---

SPILL YER TEA #5 was funded & supported by:

SPILL YER TEA 2021 TEAM
Curated and Produced by: Pierce Starre
Digital Producer: George Maund
Organisational Support: METAL Culture