---
"Performance N' Tha are so valuable to the Live Art experience for both artists and audiences" – Phil Bedwell (Artist)
---
SPILL YER TEA #6 PARTICIPATING ARTISTS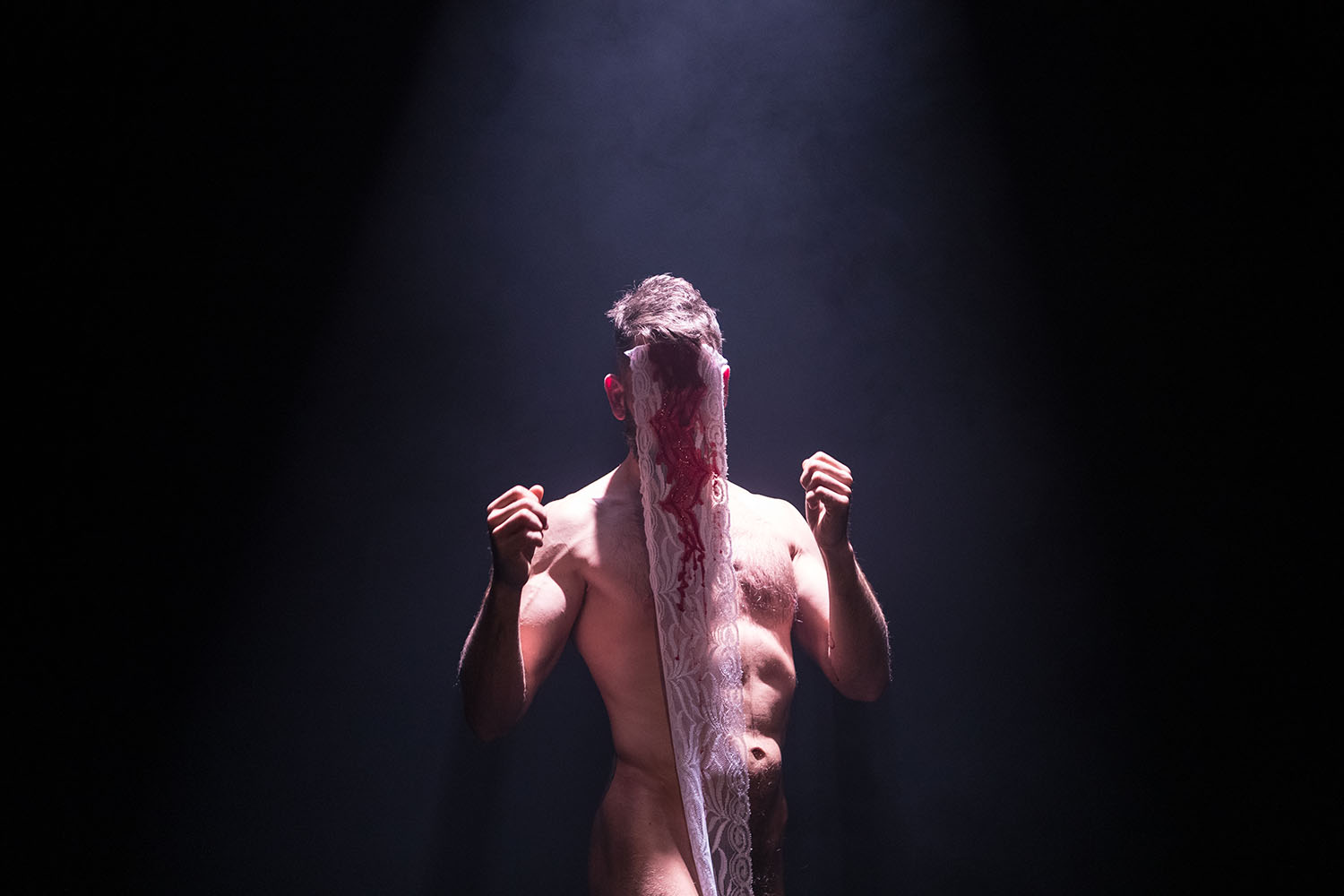 "If I should falter…" is a meditation on trauma and questioning of beliefs and memory. Does time heal? And does this healing truly help? Philip is a Lincoln based live artist, actor, professional wrestler and podcaster. After performing as a wrestler for 22 years across Europe, Philip transitioned into live art, to explore societal expectation, gender and to question historical hegemony. Philip has exhibited work throughout the U.K and in Berlin.
Image: Phil Bedwell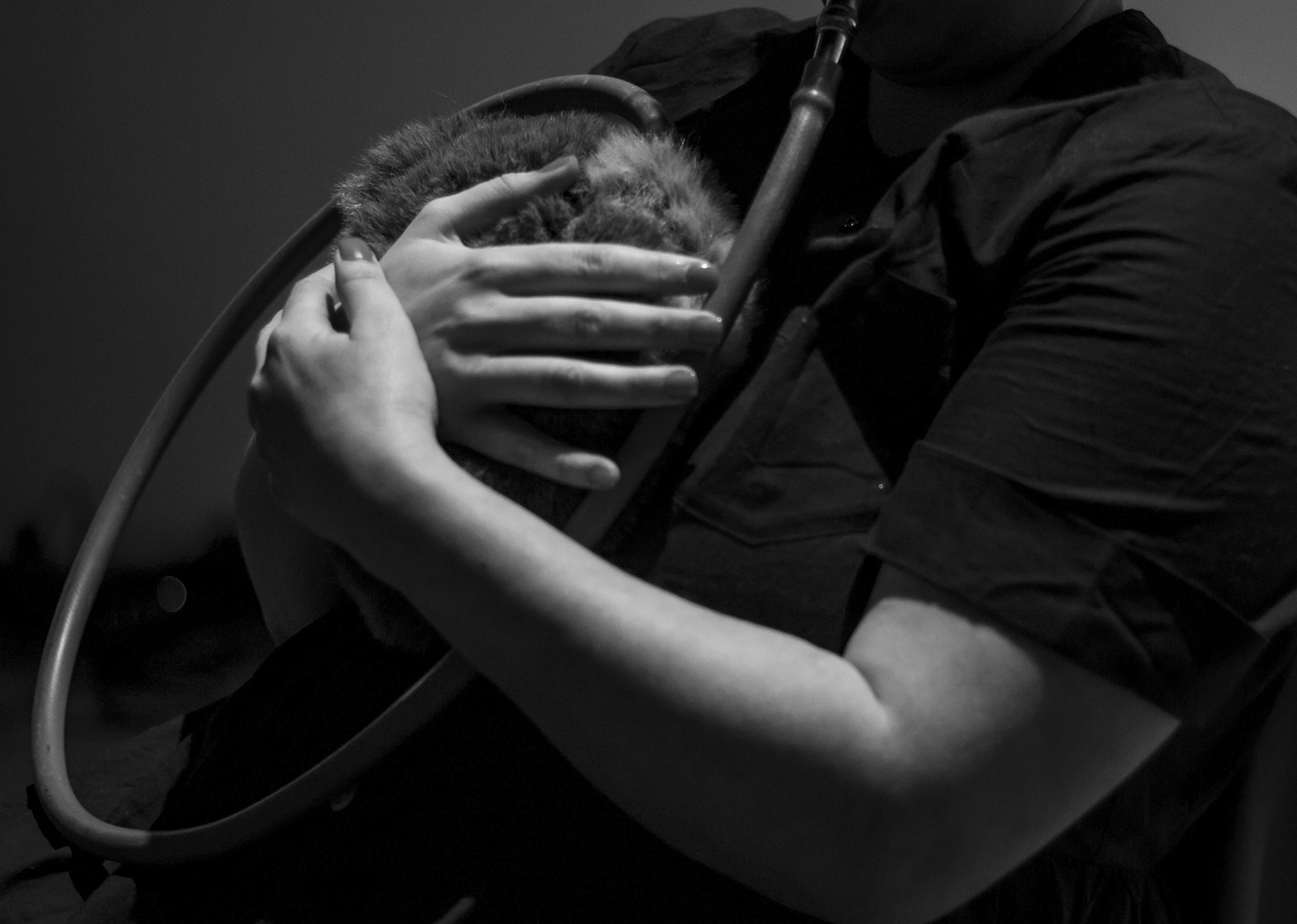 I have been holding my breath for a long time. An ephemeral intimate interaction is offered for you to hold my breath in your hands. To feel it rise/fall/gurgle/struggle/re-try and resist. As we Breathe out collective ghosts // Breathe in malfunctioning perfectly. You might feel you want to witness from a distance. Rachel Parry is a Nottingham based Interdisciplinary artist, curator, producer that makes uncanny, tender and often provocative Live Performance Art, video, Installations, creative technology, sound, text and mixed reality.
Image: Rachel Parry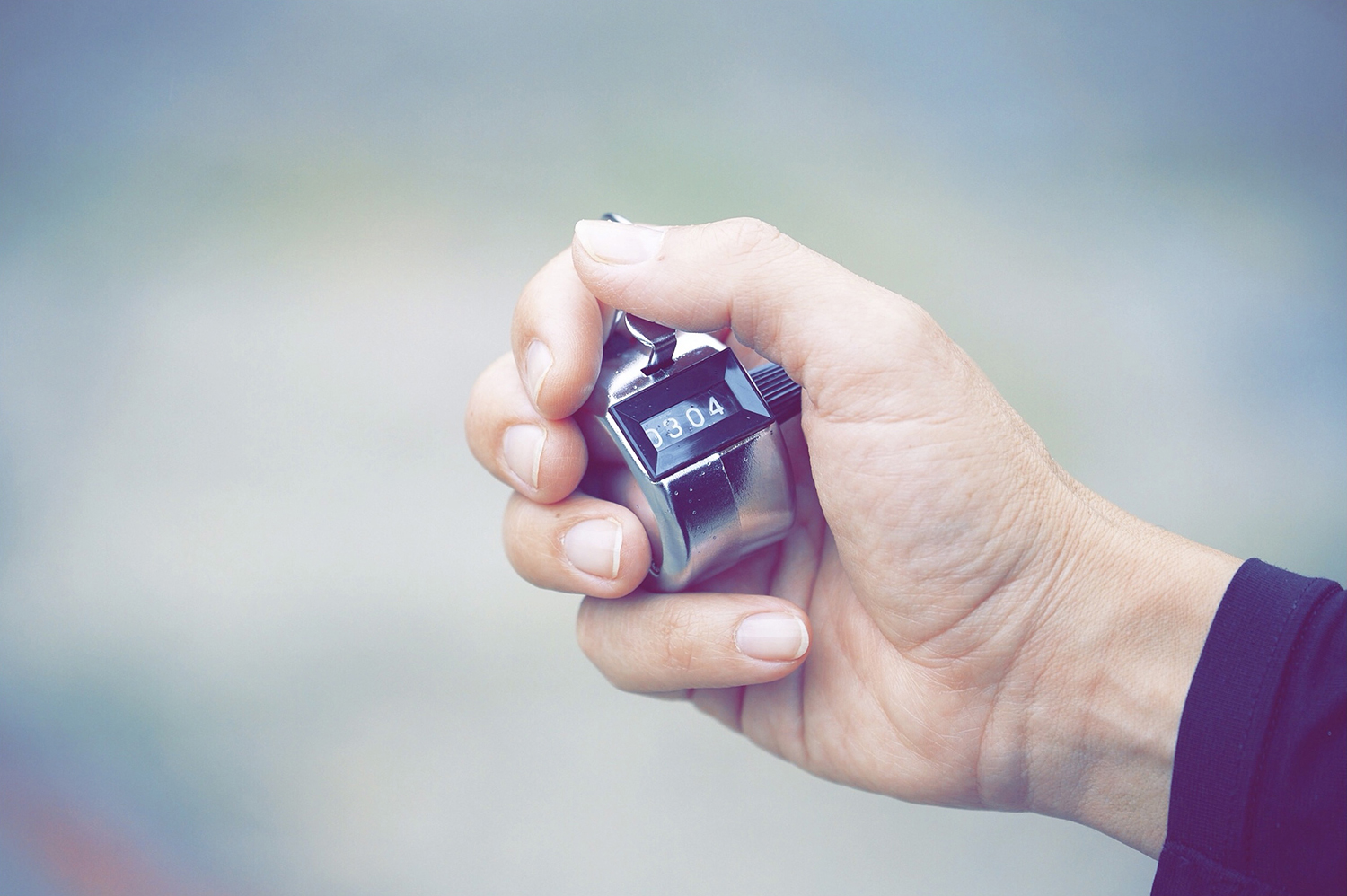 912 is a repetitive ritual, exploring the opposing life forces of waiting and carrying on, within the life-cycle of a day as a recurring unit. What is at stake in waiting? How it affects our relation to time and what are the power dynamics in being made to wait? Niya B is a visual and performance artist working on ecology and (trans)gender politics. Niya has shown work nationally and internationally including Tate Britain, CCA (Glasgow), NEoN festival; BOM; Site Gallery; ONCA; 5th Thessaloniki Biennale; 5th Moscow Biennale.
Image: Manuel Vason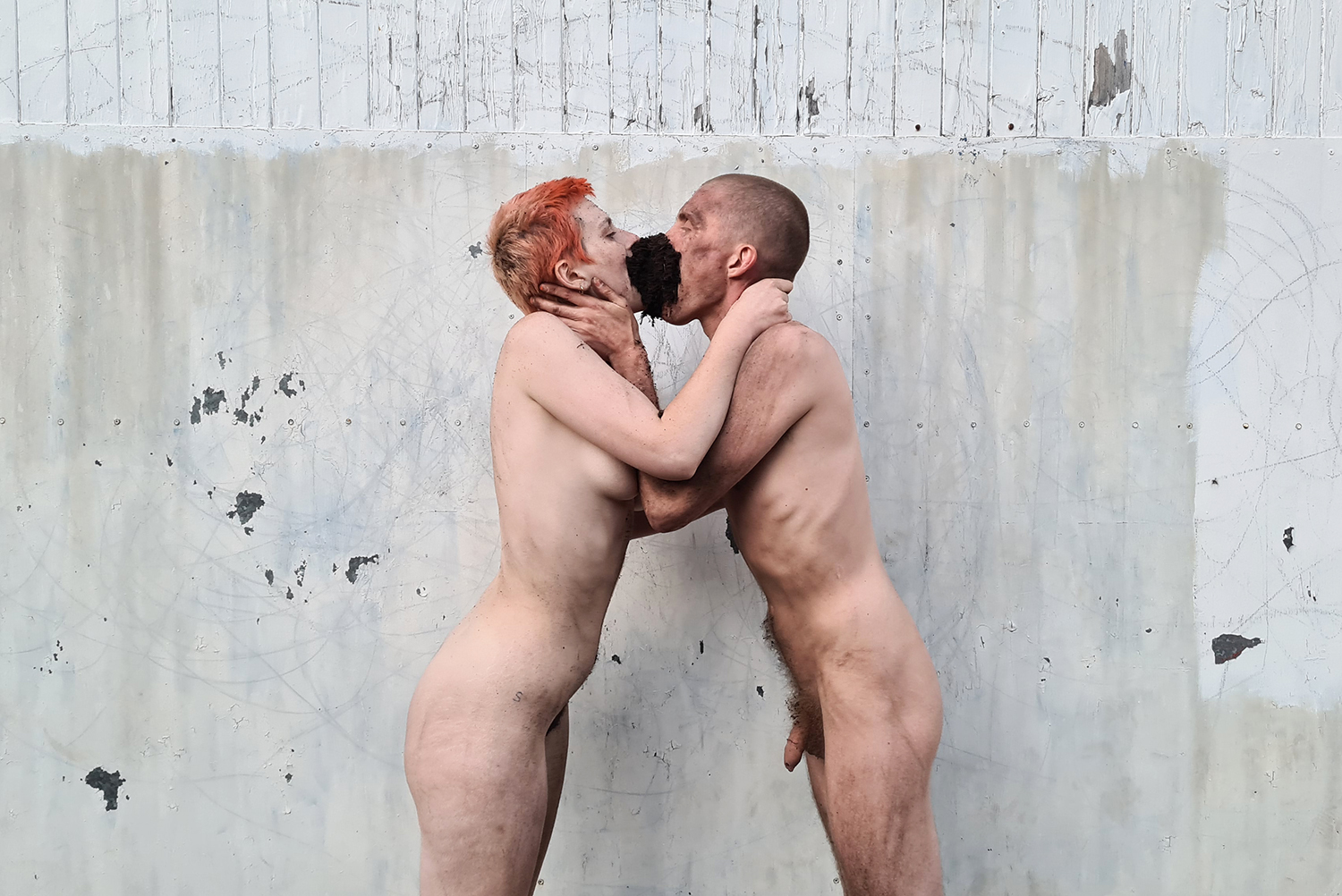 An exchange of flowers is an ongoing exploration around the queering of partnership and encounter. Looking to animal mating rituals, channelling and magick- Shackle & Bell create space to explore the anxiety of otherness, until an understanding of unity is reached. Tentatively meeting in the middle and initiating touch through exchange of earth, they are asking, who are you? Do you accept? Shackle & Bell consists of Canadian artist Maggie Campbell and British artist Samm Shackleton and will be their first live performance as collaborators. They are currently based in Derbyshire.
Image: Shackle & Bell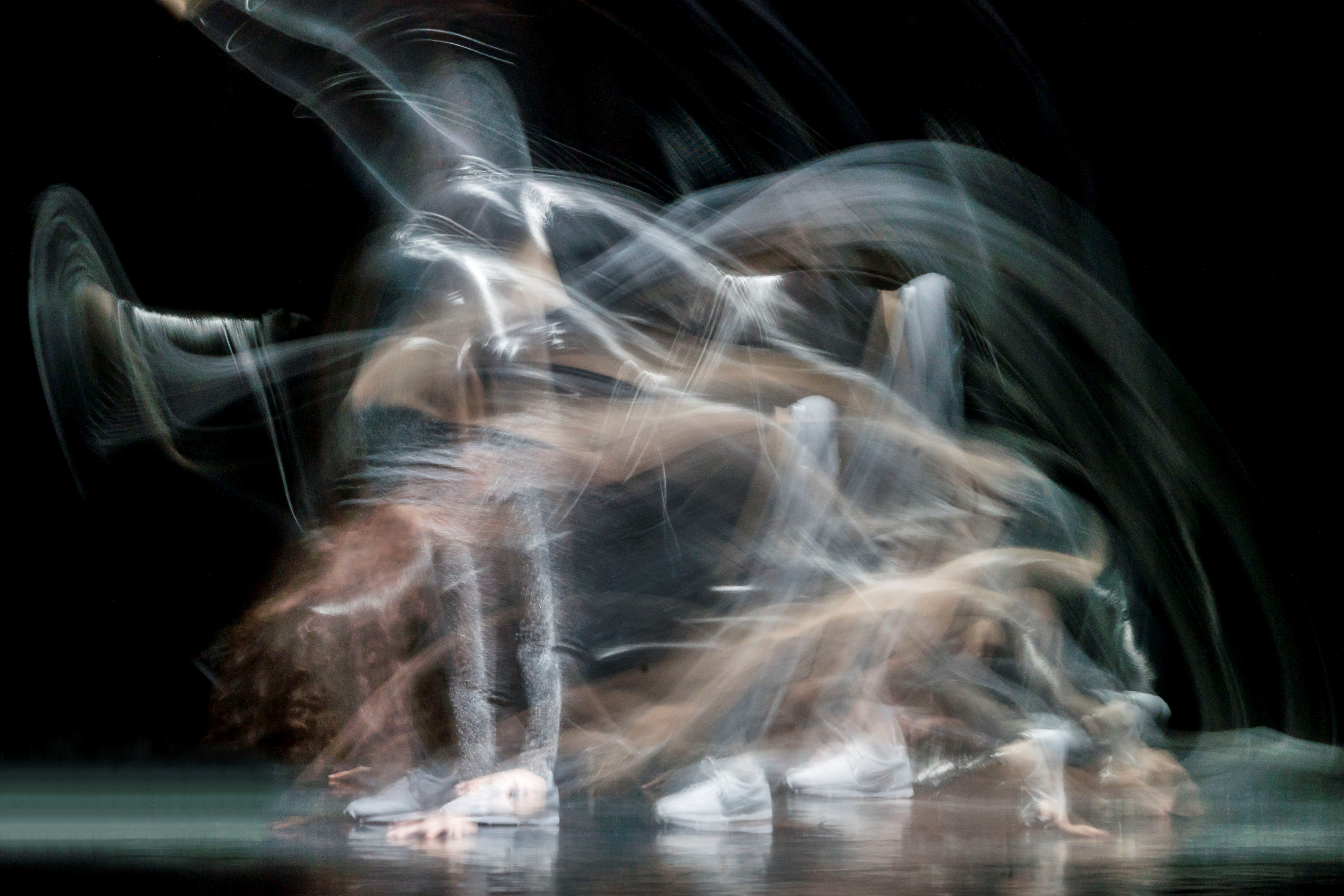 Surrender is a cyclical, looping movement & sound pattern crafted anew each time performed. It addresses surrender as a staying with, a choice & commitment. The work seeks a soft yet assertive bodily presence that advocates for the performer to take ownership through their dancing body & find agency within a fixed form. Ella is a Bradford based artist with a practice routed in dance & yoga. Her works have been performed in the UK & The Netherlands. She is a yoga teacher & curates BOLD! Bradford.
Image: Fenia Kotsopoulou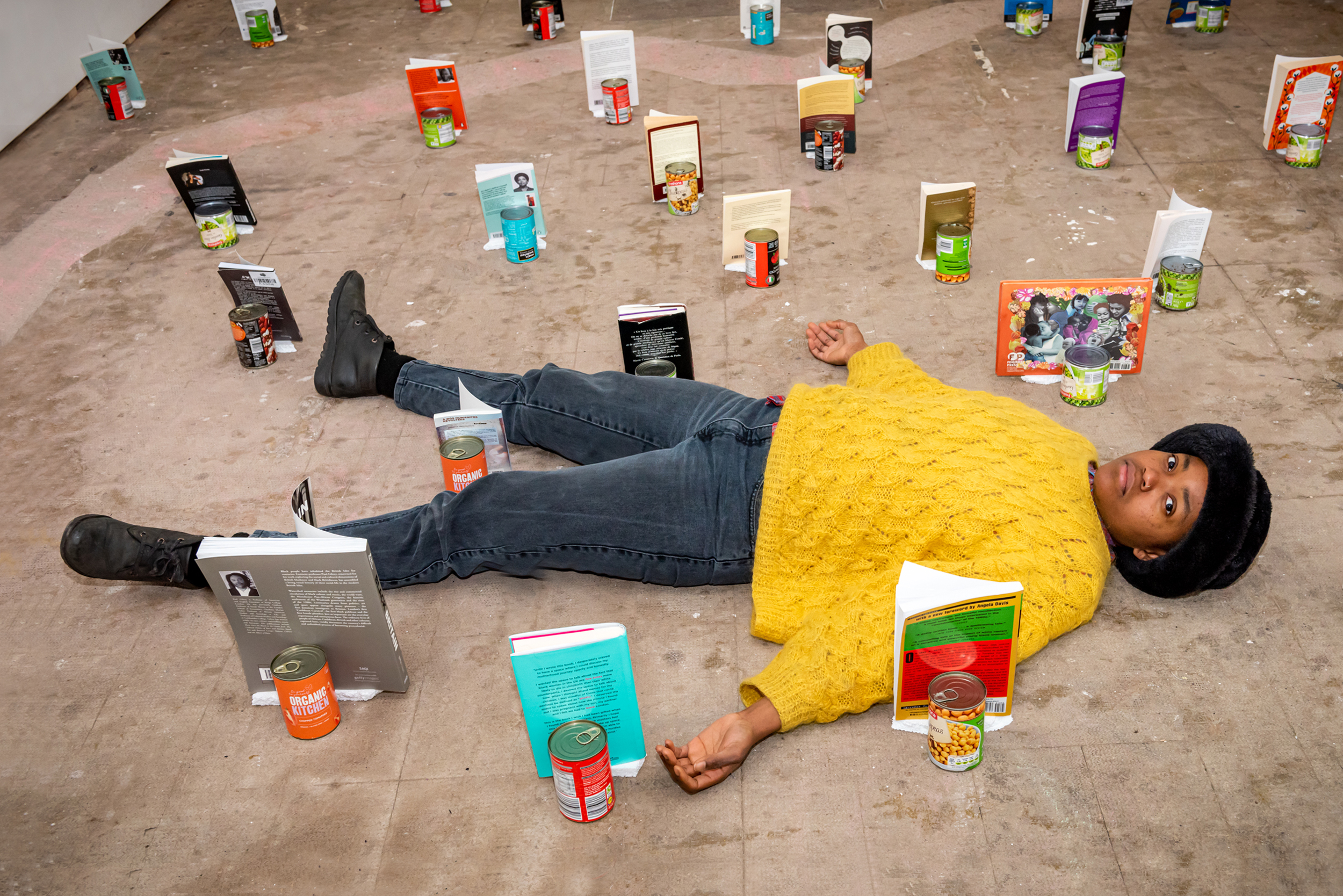 Get your hands dirty with braiding, (dis)placing, shifting, growing, and harvesting. Inspired by In Search of Our Mother's Garden by Alice Walker (1972), the beings (in melissandre varin's lineage) who clean(ed) other people's house/working space. This is an invitation to re-imagine, re-model, and re-form worlds into braids. melissandre varin is an undisciplined artist investigating love, intimacy, and tenderness in collectives/clouds from an Afro and Caribbean diasporic context. Relation, displacement, multiplicity, interdependency, and language emerge from their work.
Image: Melissandre Varin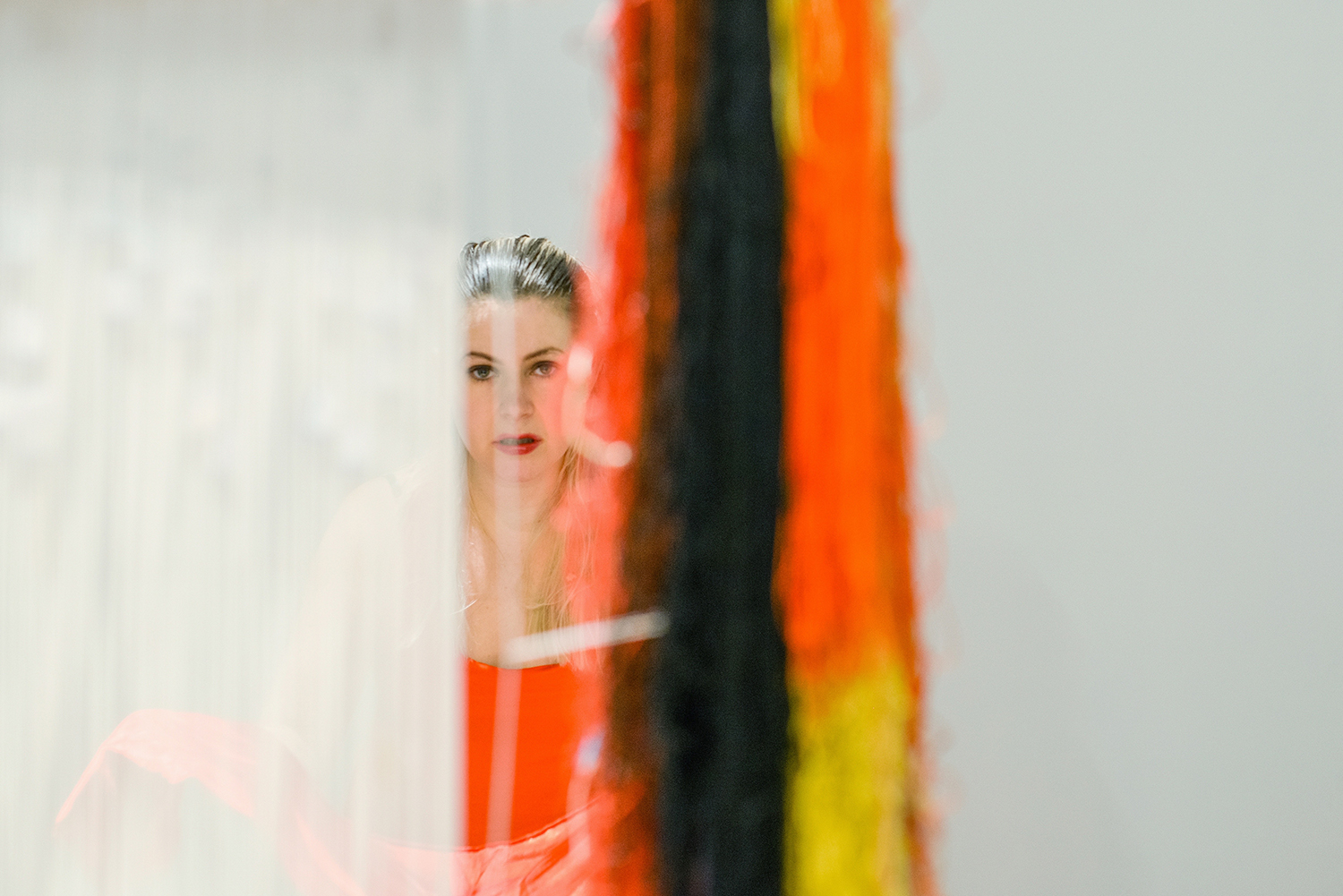 The lingering loom 2022, was a performance devised in Derby in response to a large loom in Quad gallery. In this continuation, Alice connects with the action of lifting material exploring the notion of the loom as a critique of the servitude of women and their bodies throughout history. The loom that 'lingers' becomes a metaphor for the creativity and life weaving of the feminine, where women weave their powerful stories. They do so on a loom that is inextricably tied to the social tapestry of women's servitude that is historic, abusive and ongoing. Alice is a neurodiverse performance artist and daughter of deaf and disabled parents. She builds her performances from a personal and political landscape which is found in both darkness and in love – her body lingering and uttering for connection.
Image: Marcin Sz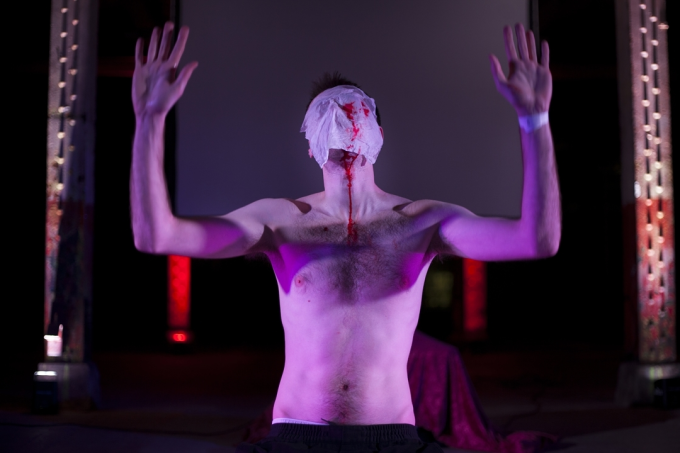 Scar Tissue/Symmetry is part of an ongoing series of performances exploring the stigma of self-wounding in relation to memory using sound and action. In each performance the artist duplicates an existing scar on their body on the opposite side. The work is an attempt to change the meaning of scars by creating a new context for them. Bill Duffy is an artist and musician based in London. He has shown work across the UK and Europe including Emergency festival and Modern Panic.
Image: Bill Duffy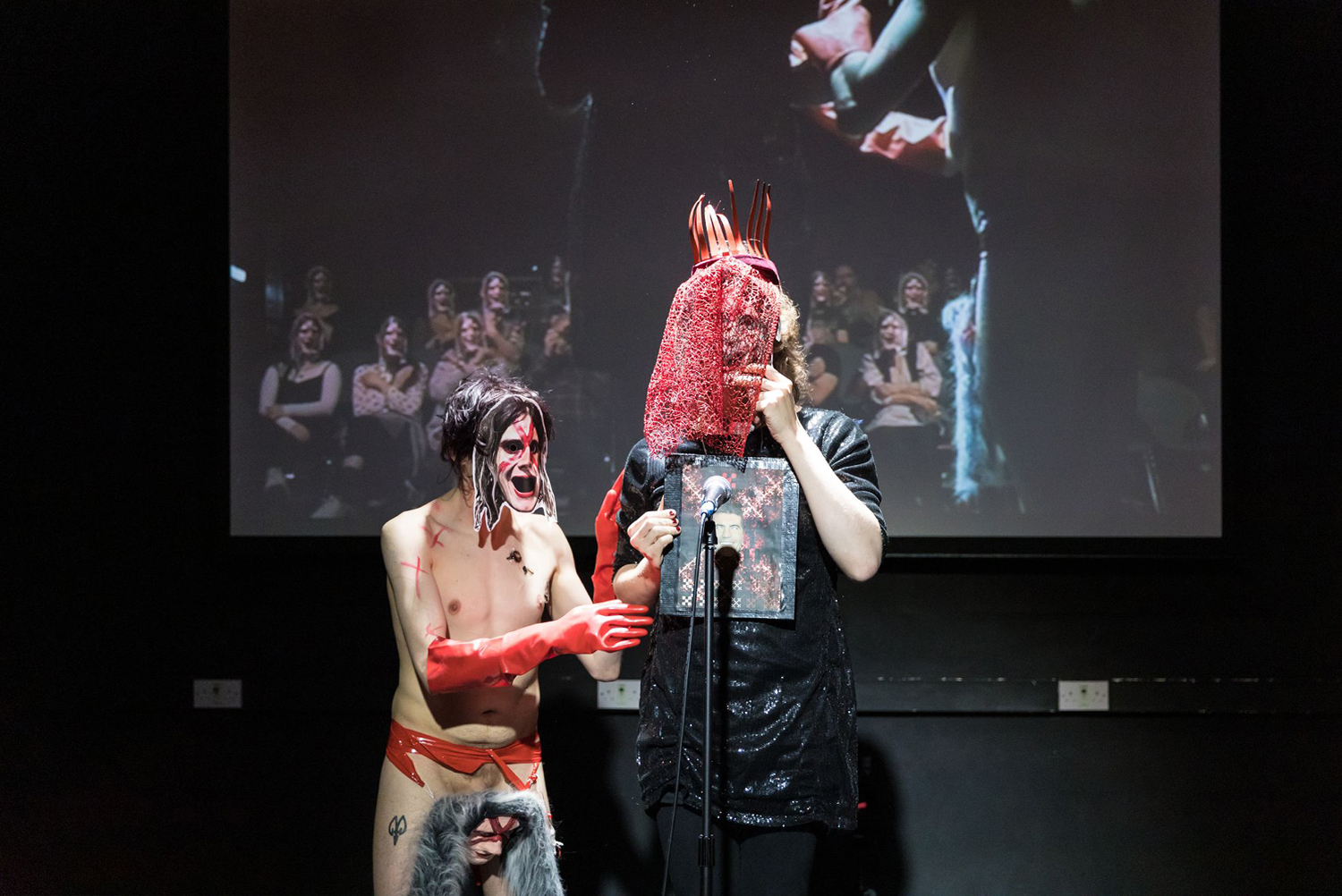 D·E·FÆ·REG·ID (Dei Ejectus Færie Regina ID) : The Queene of the Secret Commonwealth pays an Official™ visit to Liverpool to engage/gather data of its inhabitants to strengthen interdimensional relationships. Viewing our unconscious manipulation by algorithms and machine-learning technologies as an update of the duplicitous færyworld of folk belief. This visit is in part supported by the Create:Inclusion fund. Sweætshops® (swextshops) is a "multipersonality conglomerate" creating esoteric products for social undercurrents out of the waste of consumerism. "Varicoloured and raw…the undeniable energy of a high doom" (Phasmid Press).
Image: Sweætshops®
---
TICKETS Sales
Performance N' Tha is committed to supporting local initiatives who deliver important work in enhancing accessibility and opportunity for marginalised communities to engage with services.
All proceeds from ticket sales were donated to Deaf Active; a vibrant young charity working to support, promote and enhance the lives of D/deaf children and young people throughout the boroughs of Merseyside. Deaf Active campaign tirelessly to promote inclusive youth and play services for D/deaf children and young people, CODA's (Children Of Deaf Adults), Hard of Hearing children and their hearing family members and friends.
 Performance N Tha donated £140.00 to support the charity with their ongoing work.
For more information about Deaf Active or to make a donation visit https://www.deafactive.org/
---
ACCESSIBILITY
Performance N' Tha was interpreted into British Sign Language by Max Marchewicz
---
SPILL YER TEA #6 was funded & supported by: