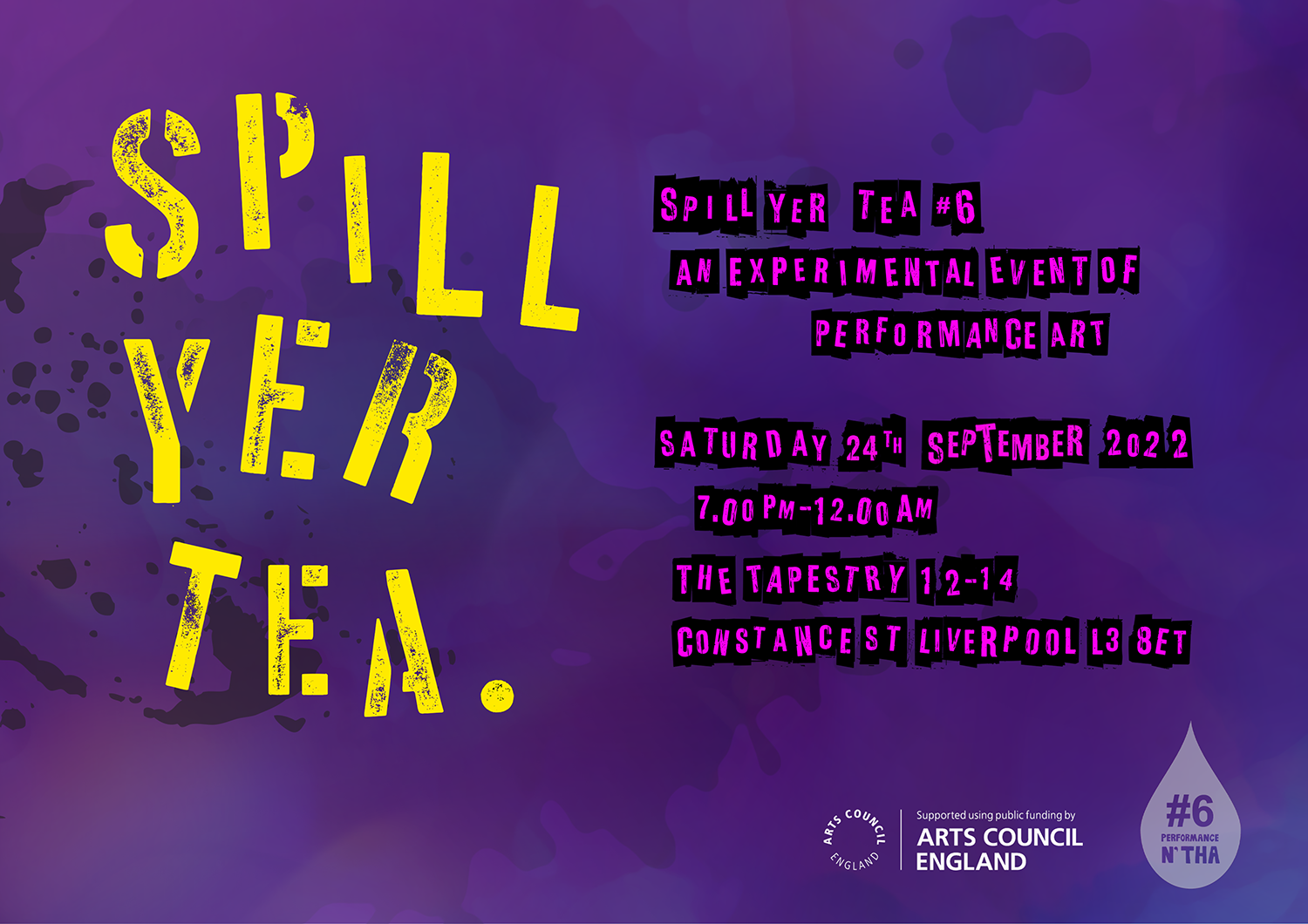 Date: 24 September 2022

Time: 19:00 – 23:30

Venue: DoES Liverpool and Fashion Hub, The Tapestry Building, Constance Street, L3 8HL
SPILL YER TEA is a Liverpool based performance art event providing a platform to some of the most exciting performance artists from across the globe.
After two years of being completely grounded to a halt, Performance N' Tha is excited to announce that we are finally back and will be sharing an in person event for our sixth instalment of SPILL YER TEA.
In 2019 Performance N' Tha delivered an electric SPILL YER TEA at Constellations in the Baltic Triangle in Liverpool and was set to deliver its 3rd performance art event in March 2020, however, Covid – 19 brought the world to a stand still.
Many organisations and platforms turned to online spaces and the pandemic itself significantly altered the way in which performance was shared and communicated. While many venues and performance spaces re-opened, we waged caution and decided to wait; safety was our utmost priority.
Collective care is a shared responsibility, yet its value is so often overlooked. The pandemic is far from over and we are mindful of this. We are treading as carefully and as responsibly as we can and as such our visitor capacity number will be no more than 50 people. Additionally we will be asking our visitors to wear masks (unless exempt) so that those who are vulnerable, can feel safer when attending our event.
Performance has been massively affected by the pandemic, particularly Live Art and Performance Art and we here at Performance N' Tha have been impacted. After two trailblazing in person SPILL YER TEA events in 2019, we were not only forced to turn to online spaces but we also lost our home at Constellations due to the venue having no option but to permanently close and make way for new building developments. As such we have had to find a new space to present our event. Performance N' Tha needs YOU, our audience. We really hope you will turn out and help us to build momentum again so that we can continue to support Performance Art from Liverpool.
SPILL YER TEA #6 will take place on 24th September 2022 at 19:00 – 23:30 from DoES Liverpool and Fashion Hub in The Tapestry Building, Constance Street, L3 8HL. The Tapestry is situated in the heart of Liverpool's Fashion District, which is a stones throw away from Liverpool Lime Street station.
---
SPILL YER TEA #6 PARTICIPATING ARTISTS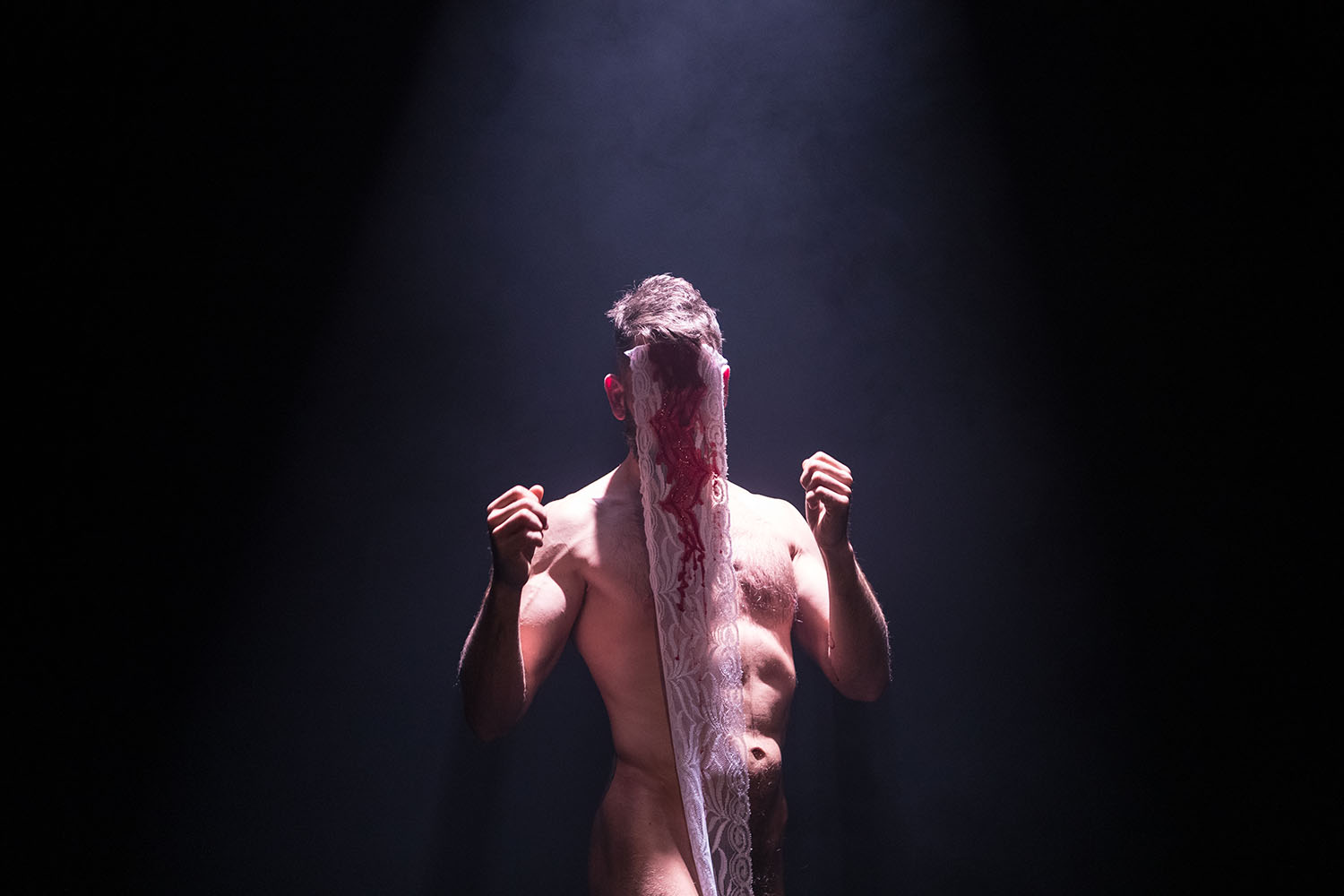 "If I should falter…" is a meditation on trauma and questioning of beliefs and memory. Does time heal? And does this healing truly help? Philip is a Lincoln based live artist, actor, professional wrestler and podcaster. After performing as a wrestler for 22 years across Europe, Philip transitioned into live art, to explore societal expectation, gender and to question historical hegemony. Philip has exhibited work throughout the U.K and in Berlin.
Image: Phil Bedwell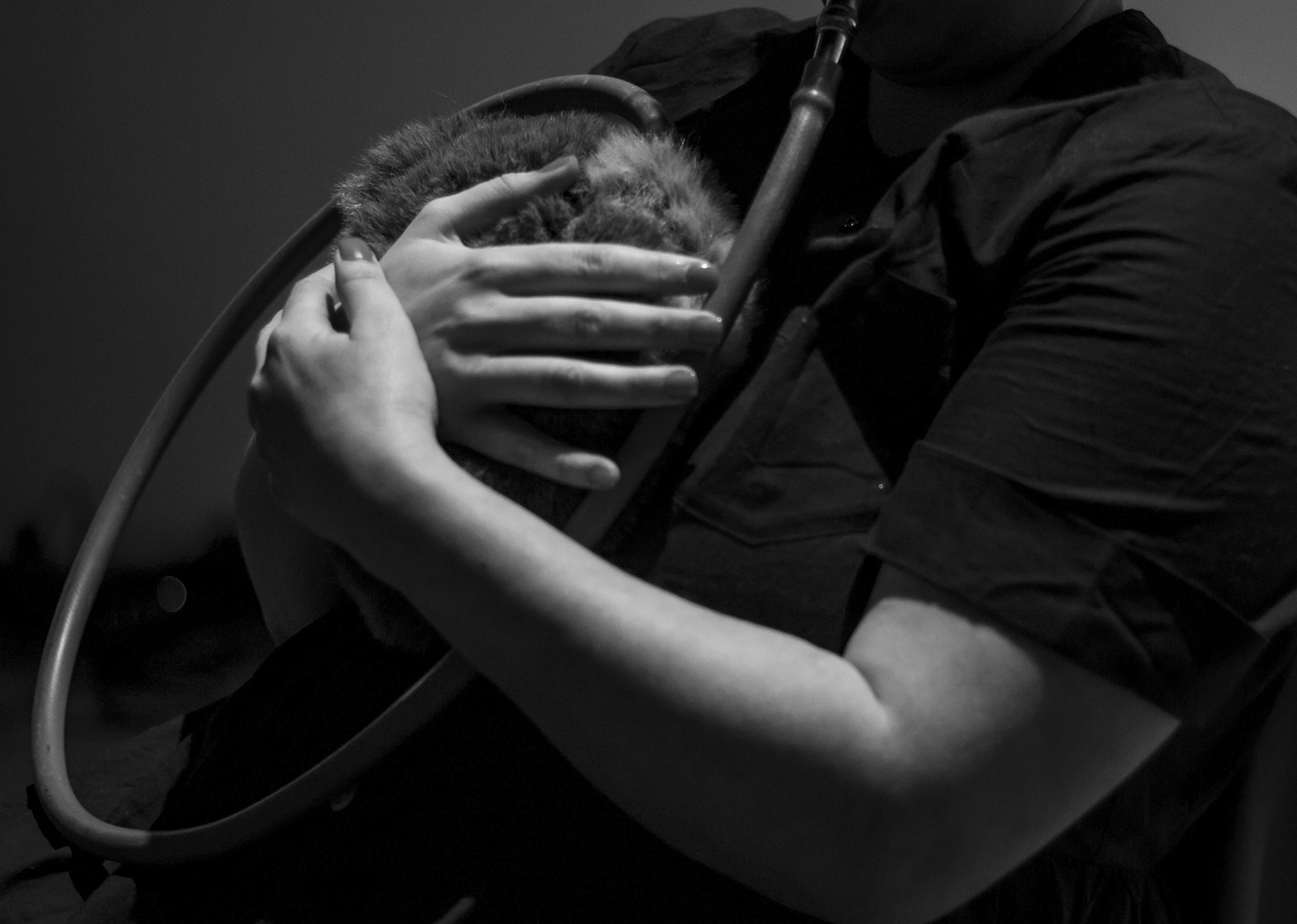 I have been holding my breath for a long time. An ephemeral intimate interaction is offered for you to hold my breath in your hands. To feel it rise/fall/gurgle/struggle/re-try and resist. As we Breathe out collective ghosts // Breathe in malfunctioning perfectly. You might feel you want to witness from a distance. Rachel Parry is a Nottingham based Interdisciplinary artist, curator, producer that makes uncanny, tender and often provocative Live Performance Art, video, Installations, creative technology, sound, text and mixed reality.
Image: Rachel Parry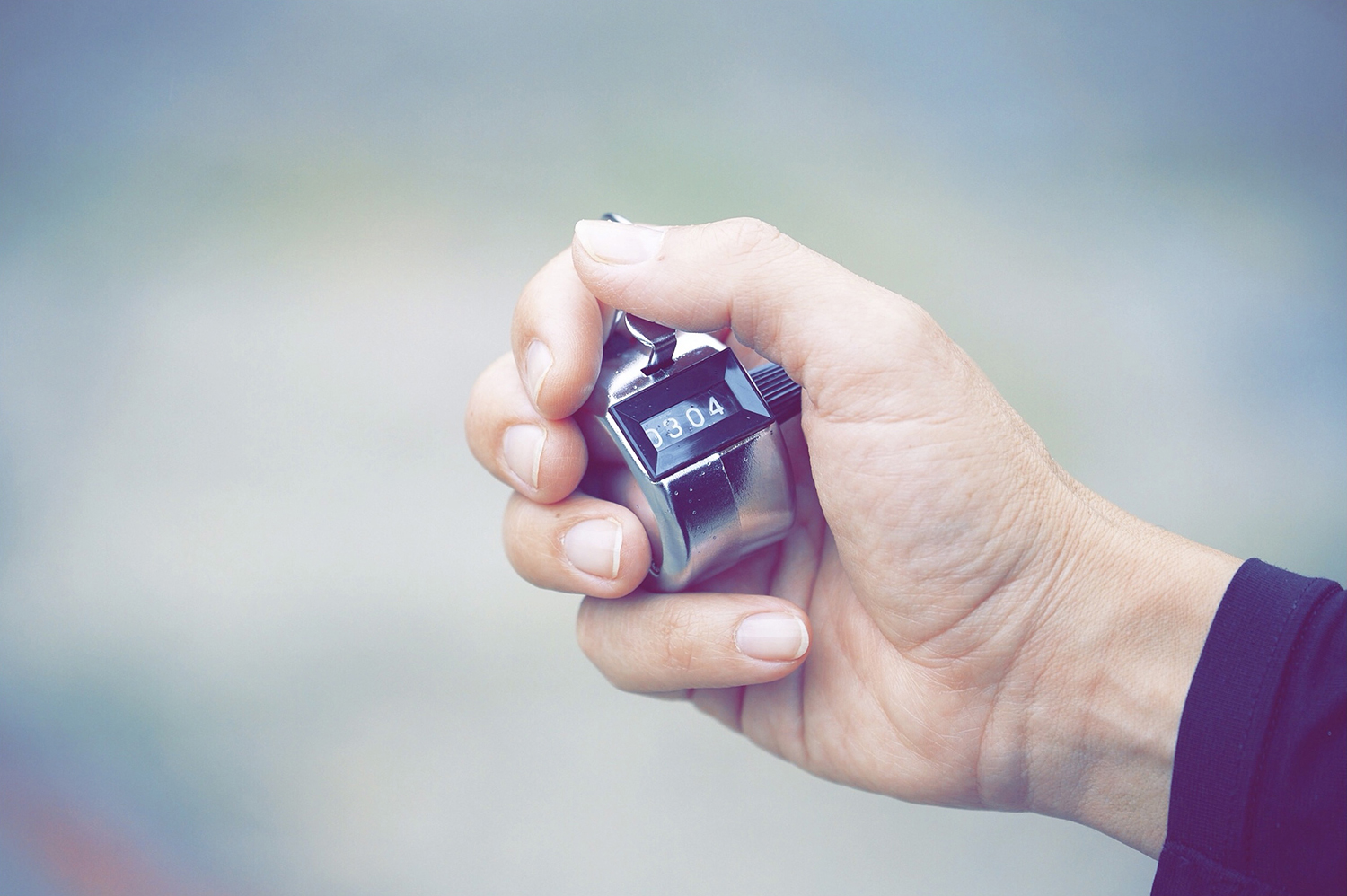 912 is a repetitive ritual, exploring the opposing life forces of waiting and carrying on, within the life-cycle of a day as a recurring unit. What is at stake in waiting? How it affects our relation to time and what are the power dynamics in being made to wait? Niya B is a visual and performance artist working on ecology and (trans)gender politics. Niya has shown work nationally and internationally including Tate Britain, CCA (Glasgow), NEoN festival; BOM; Site Gallery; ONCA; 5th Thessaloniki Biennale; 5th Moscow Biennale.
Image: Manuel Vason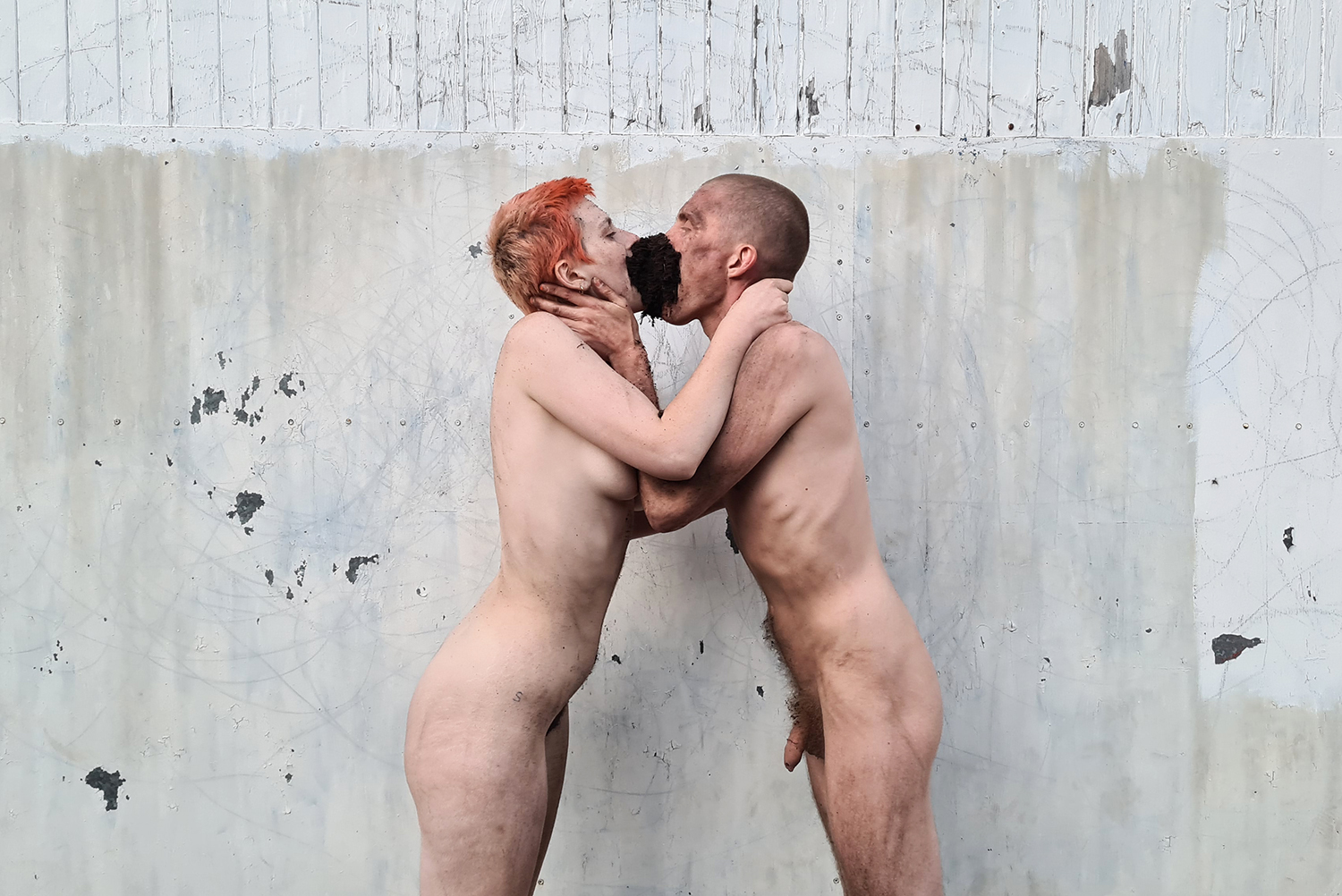 An exchange of flowers is an ongoing exploration around the queering of partnership and encounter. Looking to animal mating rituals, channelling and magick- Shackle & Bell create space to explore the anxiety of otherness, until an understanding of unity is reached. Tentatively meeting in the middle and initiating touch through exchange of earth, they are asking, who are you? Do you accept? Shackle & Bell consists of Canadian artist Maggie Campbell and British artist Samm Shackleton and will be their first live performance as collaborators. They are currently based in Derbyshire.
Image: Shackle & Bell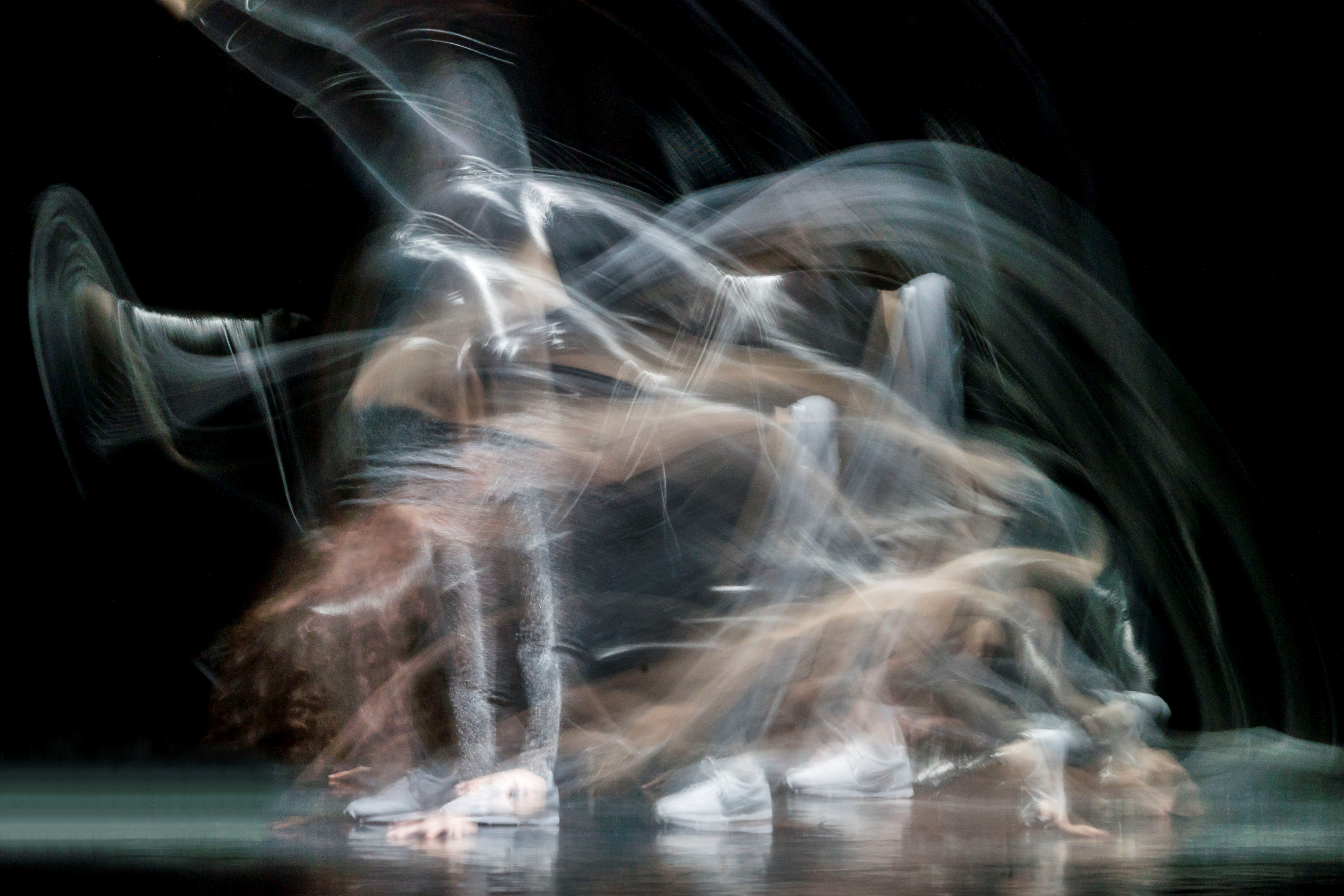 Surrender is a cyclical, looping movement & sound pattern crafted anew each time performed. It addresses surrender as a staying with, a choice & commitment. The work seeks a soft yet assertive bodily presence that advocates for the performer to take ownership through their dancing body & find agency within a fixed form. Ella is a Bradford based artist with a practice routed in dance & yoga. Her works have been performed in the UK & The Netherlands. She is a yoga teacher & curates BOLD! Bradford.
Image: Fenia Kotsopoulou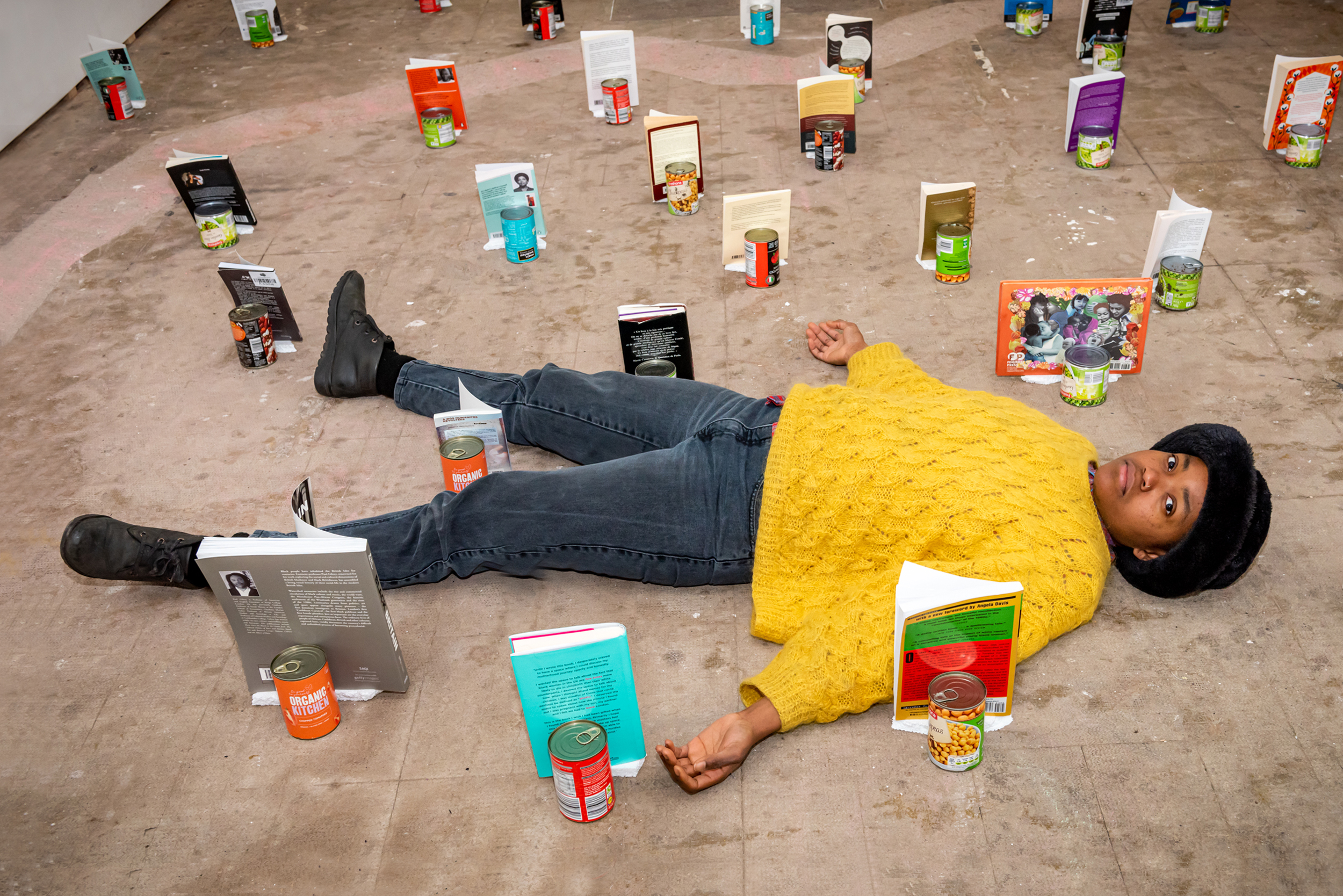 Get your hands dirty with braiding, (dis)placing, shifting, growing, and harvesting. Inspired by In Search of Our Mother's Garden by Alice Walker (1972), the beings (in melissandre varin's lineage) who clean(ed) other people's house/working space. This is an invitation to re-imagine, re-model, and re-form worlds into braids. melissandre varin is an undisciplined artist investigating love, intimacy, and tenderness in collectives/clouds from an Afro and Caribbean diasporic context. Relation, displacement, multiplicity, interdependency, and language emerge from their work.
Image: Melissandre Varin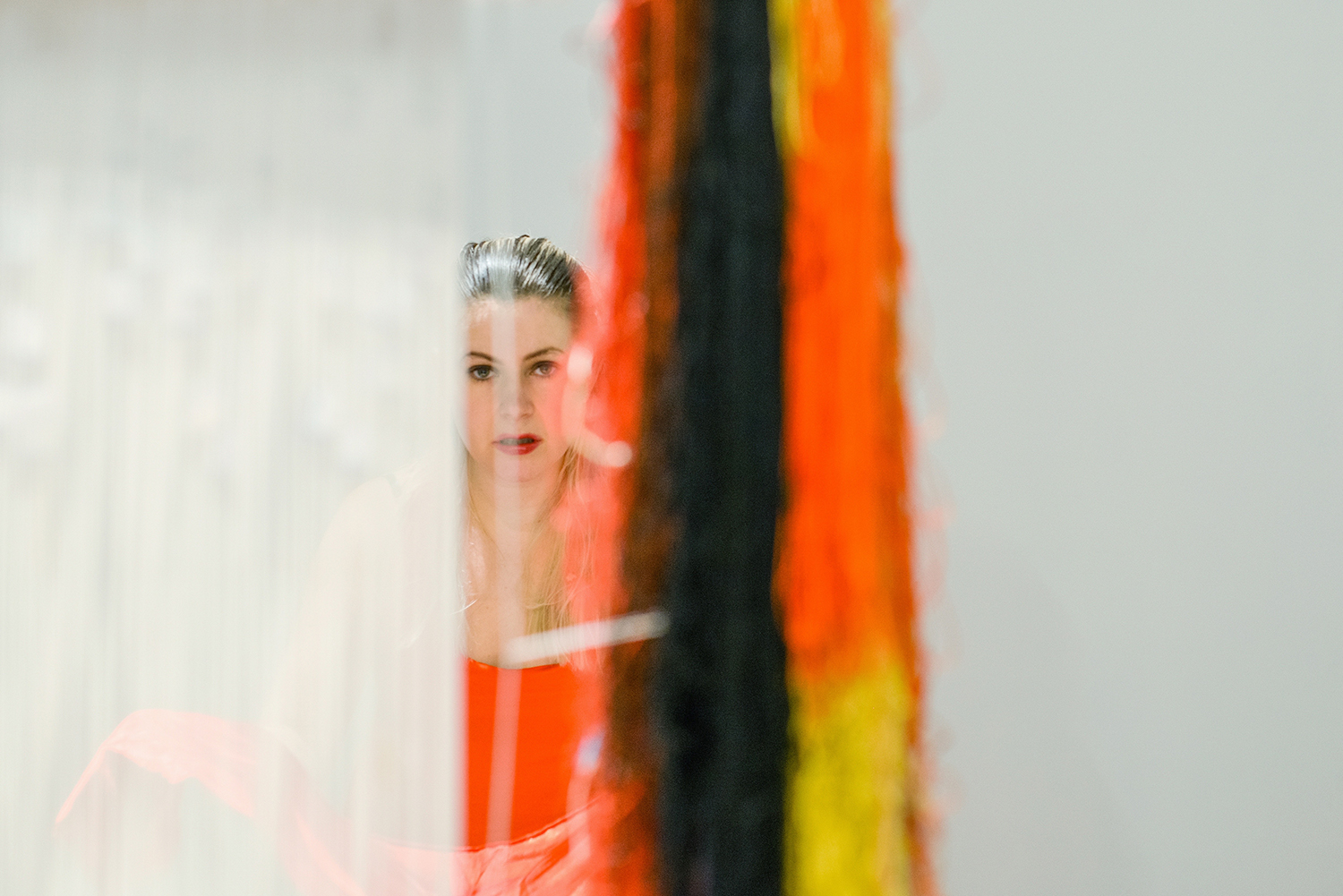 The lingering loom 2022, was a performance devised in Derby in response to a large loom in Quad gallery. In this continuation, Alice connects with the action of lifting material exploring the notion of the loom as a critique of the servitude of women and their bodies throughout history. The loom that 'lingers' becomes a metaphor for the creativity and life weaving of the feminine, where women weave their powerful stories. They do so on a loom that is inextricably tied to the social tapestry of women's servitude that is historic, abusive and ongoing. Alice is a neurodiverse performance artist and daughter of deaf and disabled parents. She builds her performances from a personal and political landscape which is found in both darkness and in love – her body lingering and uttering for connection.
Image: Marcin Sz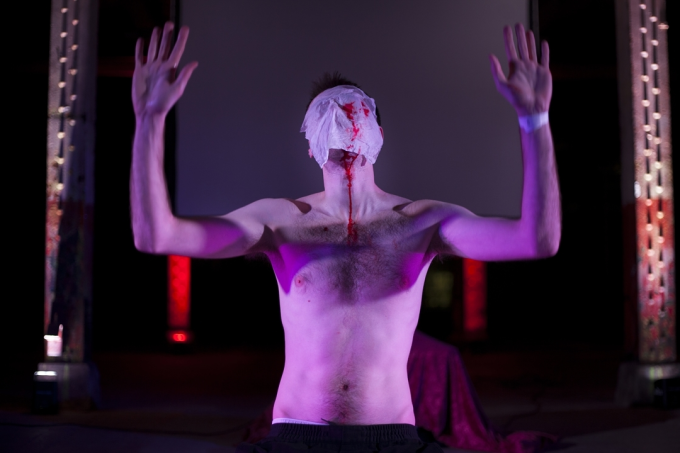 Scar Tissue/Symmetry is part of an ongoing series of performances exploring the stigma of self-wounding in relation to memory using sound and action. In each performance the artist duplicates an existing scar on their body on the opposite side. The work is an attempt to change the meaning of scars by creating a new context for them. Bill Duffy is an artist and musician based in London. He has shown work across the UK and Europe including Emergency festival and Modern Panic.
Image: Bill Duffy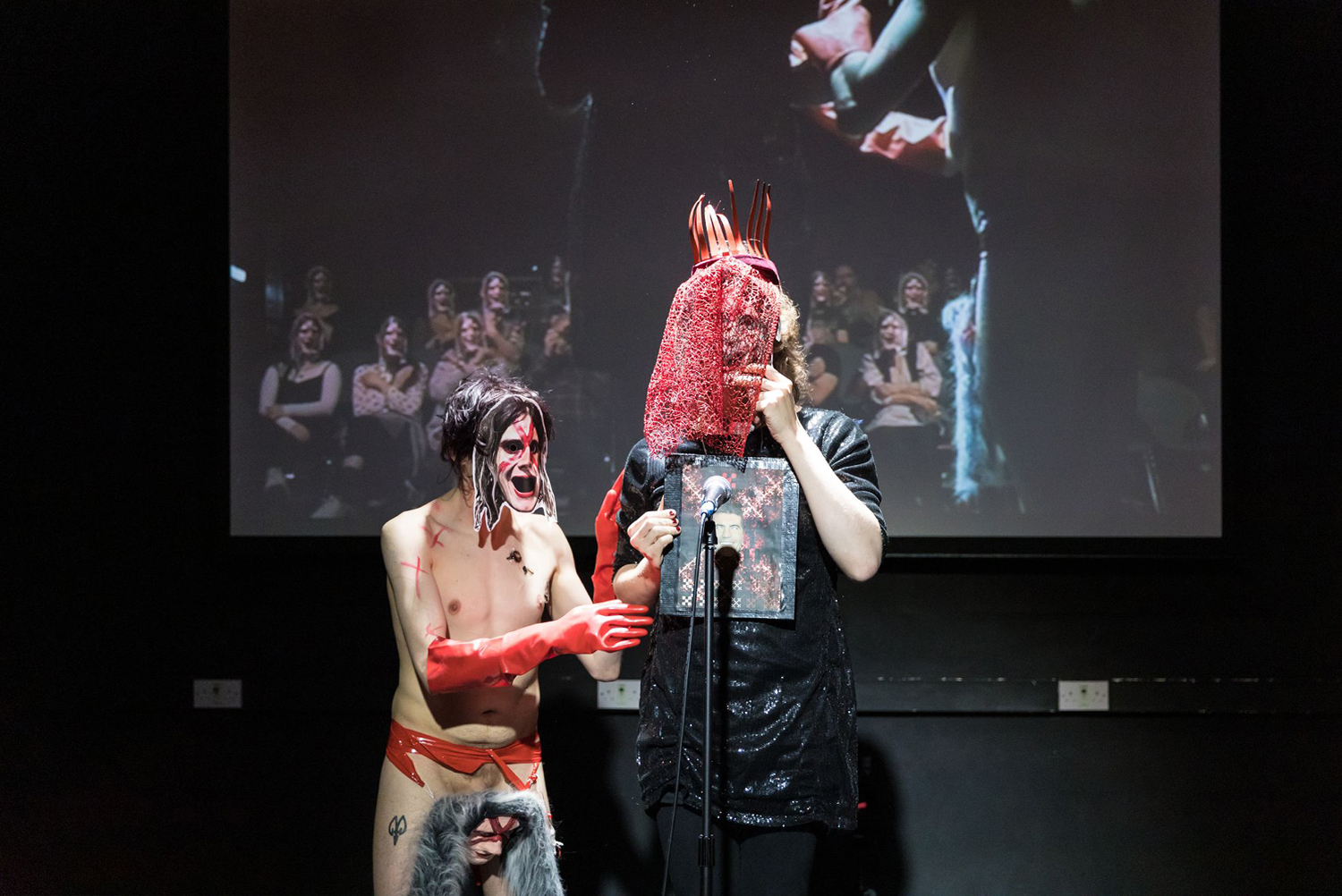 D·E·FÆ·REG·ID (Dei Ejectus Færie Regina ID) : The Queene of the Secret Commonwealth pays an Official™ visit to Liverpool to engage/gather data of its inhabitants to strengthen interdimensional relationships. Viewing our unconscious manipulation by algorithms and machine-learning technologies as an update of the duplicitous færyworld of folk belief. This visit is in part supported by the Create:Inclusion fund. Sweætshops® (swextshops) is a "multipersonality conglomerate" creating esoteric products for social undercurrents out of the waste of consumerism. "Varicoloured and raw…the undeniable energy of a high doom" (Phasmid Press).
Image: Sweætshops®
---
TICKETS
Performance N' Tha is committed to supporting local initiatives who deliver important work in enhancing accessibility and opportunity for marginalised communities to engage with services.
We are suggesting a £5.00 ticket fee, however, to ensure individuals experiencing financial hardship are not turned away, we also have donation based and free ticket options.
All proceeds from ticket sales will be donated to Deaf Active; a vibrant young charity working to support, promote and enhance the lives of D/deaf children and young people throughout the boroughs of Merseyside. Deaf Active campaign tirelessly to promote inclusive youth and play services for D/deaf children and young people, CODA's (Children Of Deaf Adults), Hard of Hearing children and their hearing family members and friends.
For more information about Deaf Active visit https://www.deafactive.org/
---
ACCESSIBILITY
Performance N' Tha centres accessibility and as such SPILL YER TEA will be interpreted into British Sign Language, venues will be disability friendly and accessible and a designated quiet space will be provided for neurodivergent individuals.
We are committed to making Performance N' Tha events accessible. If you have any disabilities, or specific accessibility requirements, please drop us an email at info@performancentha.com, or call us on +44 (0) 7916364698
---
SAFE(R) SPACES
Performance N' Tha is a queer and nuerodivergent led platform. We will be operating a safer space policy and will not tolerate any forms of discrimination or abuse. If anyone experiences any form of discrimination or abuse during the event please notify a member of the team immediately.
---
CONTENT WARNING
This event is suitable only for individuals aged 18 and over
All trigger and content warnings surrounding sensitive works will be outlined before the event is shown so our audiences can make an informed decision about viewing.
---
SPILL YER TEA #6 is funded & supported by: